Marina Billinghurst, the award-winning designer behind Art of Marina, opens her first boutique – Art of Marina, Studio & Gallery, this Saturday, September 19th located in the heart of Penticton, on the Naramata wine route.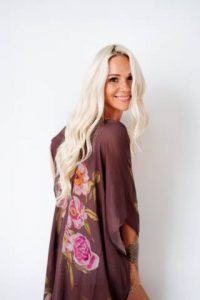 Billinghurst has been making waves with her luxurious 100% Mulberry silk kimonos featuring dreamy, original watercolour prints which are sold at luxury retailers and resorts worldwide as well as online. She is proud to open her boutique in her home province which will feature her coveted kimono collection, limited edition kimonos and scarves, as well as original artwork and home décor items including new Art of Marina Canadian provincial flower wallpaper.
Art of Marina, Studio & Gallery
OPENING DAY: Saturday, September 19th, 2020 from 11am – 5pm
Starting September 24th, they'll be open every Thursday, Friday & Saturday 11am – 5pm
475 Upper Bench Rd. N., Penticton

Covid protocols in place, so you can shop safely!