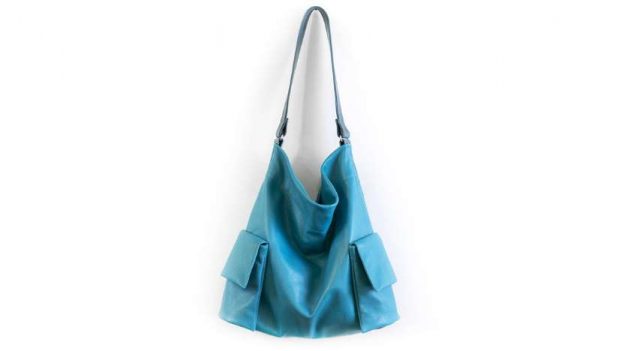 Natasha Durham, Rough & Tumble's founder, and creative director, is releasing The Kimono as a handbag she says, "will surely be a must-have for all collectors of Rough & Tumble handbags." The Kimono is a highly crafted, handmade bag introducing a first-time, signature Kimono pocket style for the brand with an international cult following. 
The bag's 'free-floating' pockets glean their inspiration from Natasha's life-long mantra that "form follows function." They allow each wearer the ability to "put their hands in their roomy Kimono pockets and not have their hands squished, like too many restricting pockets do," she explains. Natasha, an artist, and maker, believes wearable design should not "fight the motion of a human being moving around in their world."
The full inspiration for this bouncy and lightweight statement bag is the silk Kimono wedding dress Natasha designed for a close friend. "The Kimono's unique, 'free-floating' outer pocket design gives this minimal bag a true not-seen-anywhere look," she says. 
Customization
Rough & Tumble is well-known for its full customization offerings, and the Kimono is fully customizable. "If a person decides to customize The Kimono, there are over 100 Elevation straps to choose from, giving them 100, plus, ways to make it their own. The Kimono features Rough & Tumble's newest, attached Elevation strap, or Elevation. The bag's side pockets can also be customized. "So, if your heart lands with a simple, butter-soft lambskin, Plonge black, you can still add subtle contrast in matte or a touch of drama with some sparkle on the elevation. As usual, the customization possibilities are limitless," says Natasha.
Safekeeping Design
Being that security is of the utmost importance to Rough & Tumble's city dwellers and world travelers, all of the brand's bags, including The Kimono, which feature the low-profile, Italian-made, magnetic enclosure, also include a full-width zippered security pocket. Other security features are two D-rings and a FOB where a person can attach and fully secure items within the bag.  To be the designer of your own, customized Rough & Tumble bag, visit www.roughandtumbledesign.com