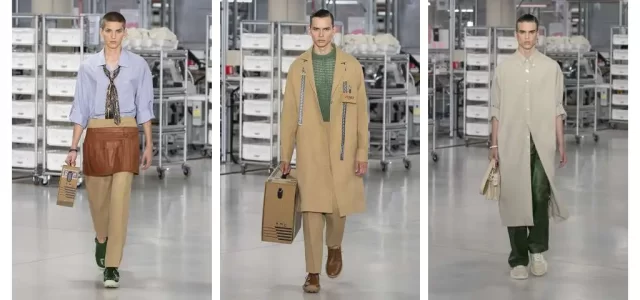 Clad in earth and concrete, the new FENDI Factory in Capannuccia outside Florence seems to blend with the Tuscan hillside, surrounded by newly planted olive groves and local flora. An innovative hub dedicated to excellence in fine leather goods, FENDI Factory is a destination for the artisans of the future. Designed by Silvia Venturini Fendi, Artistic Director of Accessories and Menswear, the FENDI Mens Spring/Summer 2024 collection is an ode to this new adventure and an historic return to Florence, where Silvia Venturini Fendi's grandmother Adele Fendi travelled from Rome to learn the art of leather craftsmanship close to a century ago. 
Paraded through the light-filled atrium of the FENDI Factory, the collection and the show itself are a metafictional reflection on process, where the dance of man and machine is a palpable link between past and future. Exploring the liminal space that separates nature and innovation, the industrial and the handmade are entwined in perpetuity: tricking the eye, but never the hand.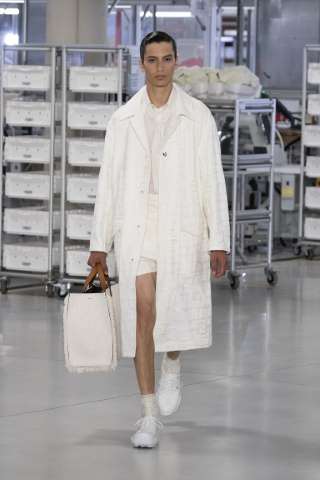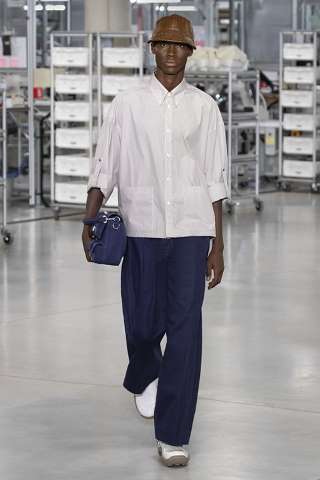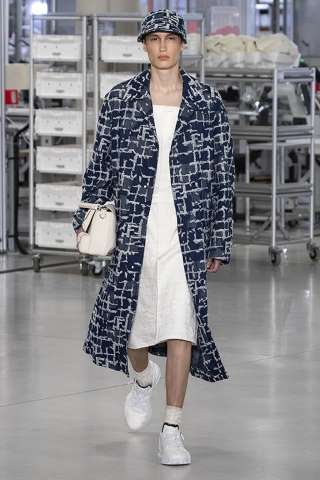 Grounding the season's silhouette in a utilitarian elegance, the archetype of the 'corporate artisan' is celebrated in sophisticated expressions of FENDI craftsmanship. In cotton and leather, the patch pockets of workwear belts are dispersed across the collection, revealing the tools of the trade in both literal and figurative gestures. The apron too is employed as halter neck collared shirts and skirts in varying lengths over tailored pants and city shorts. Such games of proportion abound, from shrunken ribbed body tanks to high-waisted, zip-off suit trousers and knee-length dress shirts buttoned to the elbow. 
Reminiscent of the Tuscan landscape, a stratum of mineral shades from burnt umber and terracotta to deep indigo is diffused by a soft haze of sage, limestone and chalk, including light summer wools and nettle fibre knitwear yarn-dyed with vegetal pigments of acacia, juniper, henna and poppy. Other raw materials follow suit, from the dry touch of woven paper textiles, fine 'pattern-print' linen and unbleached cotton drill to the sensuality of FF scarf silks, plongé and Selleria-stitch nubuck leather. In homage to the Italian art of basket weaving, FF 'tweed' is woven into a coated cotton and linen shirt or a featherweight knit shearling coat, its effect mirrored on graphic silk separates and an indigo fil coupé FF denim. Other trompe l'oeil effects celebrate the artisan's prowess, from tonal FF jacquards and cotton floral embroidery to a contrast tack-stitch motif for evening.
The FENDI Men's Spring/Summer 2024 accessories collection is a playful exploration of the 'corporate artisan' in tactile expressions of the FENDI Factory's finest craft. From supple woven baskets and knotted jacquard 'lunch' bags to raffia-embroidered weekenders and rigid FF luggage in bright tool prints, structured and deconstructed bag shapes complement new Baguette and Peekaboo styles in vegetal-dyed textiles, debossed leather 'scales', and trompe l'oeil 'pattern-print' graphics. In grained leather, the new minimalist satchel FENDI Chiodo joins the swivel homonymous backpack with tonal leather straps featuring the circular FENDI Shadow hinge device that adorns the season's shoe: the FENDI Lab clog with a swivel heel strap and moulded FF sole in bio-based rubber. Designed by Delfina Delettrez Fendi, Artistic Director of Jewelry, locker key-shaped pendants, 'Made in Fendi' dog-tags, 'StaFF Only' pins and 1925 hoop earrings play upon the everyday elements of the FENDI Factory with an irreverent twist.