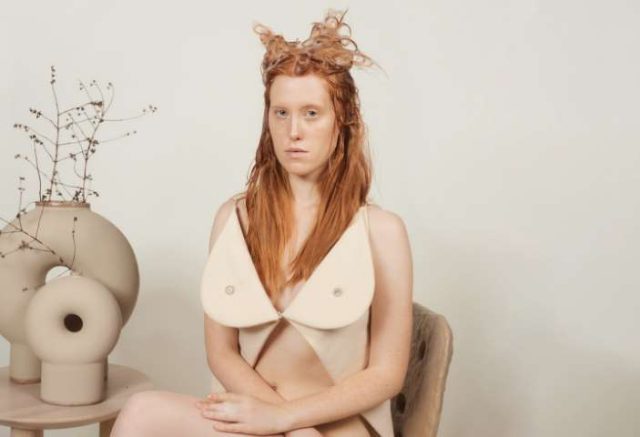 DZHUS ethical transformer clothing brand and White Mandarin natural selfcare label have released mesmerising holiday cards.
The "Kinship" visual project celebrates a unique synthesis of various designer objects, united by eco-inspired, surrealistic aesthetics.
The art director of the collab, Irina Dzhus, has gathered multipurpose garments, interior decor, authentic ceramics, 3D-printed jewellery, cruelty- free shoes, and avant-garde pastry in one space – all designed by Ukrainian talents. The unusual beauty looks were created using natural skincare and haircare products.
The series of abstract compositions highlighting domestic scenes is implemented in white monochrome, whereas all the details speculate on corporeality and biomorphic shapes.
The project's ideologists, DZHUS and White Mandarin, have consolidated their creative forces to honour a complex approach to formation of a harmonious and self-sufficient personality, and to glorify synergetic elements of conscious happiness.
PROJECT CONTRIBUTORS
Ethical transformer clothing: DZHUS @dzhus.conceptual.wear Natural selfcare products: White Mandarin @market.choice.ua Interior objects: Faina @fainadesign
Location: Ya Vsesvit by Yakusha Design @ya.vsesvit @yakusha.design Art confectionery: Sugary Lab @sugarylab_cakestudio
Cruelty-free footwear: House Martin @housemartin_footwear 3D-printed jewellery: Lada Legina @ladalegina
Art direction, styling, casting: Irina Dzhus @irina.dzhus Photo: Alexey Ponomarev @pnmrvalexey
Video: Sergey Vovk @_sergey_vovk_ Makeup: Julia Vasilkovskaya @mua_model Hair: Julia Danshyna @julia_danshyna
Models: Lenka Klymenko @lenka_klymenko / Firstline, Sofi Pashkual @sofipashkual, Diana Kim @wasssabidi
Styling assistants: Anatolii Elgert @anatoliielgert, Daryna Trukhachova @darynatrukhachova, Natalia Volkova @nat_kohler_