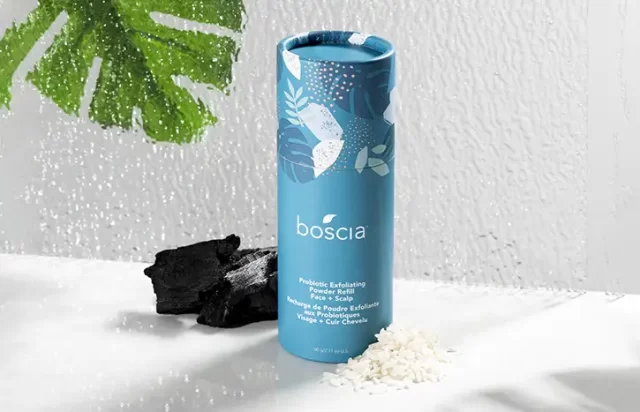 The water activated exfoliating blend is crafted with salicylic acid, and upcycled charcoal and rice to gently exfoliate, decongest and clarify the face and scalp from daily build-up. The use of Upcycled Rice and Charcoal in this formula minimizes the amount of waste sent to landfill by repurposing it for a second life. Finally, water as an ingredient has also strategically been removed from this formula. Removing the water lowers the weight of the product, decreasing the number of necessary transportation vehicles & reducing the carbon footprint it requires to reach store shelves.
The formulation of the product itself, and original packaging also demonstrate boscia's strides towards sustainability.
The original packaging of the Probiotic Exfoliating Powder Face + Scalp is made of a 100% Post Consumer Recycled (PCR) bottle with a 30% PCR cap. This reduces the environmental cost of producing virgin plastic. This sustainable way of managing materials is preferred even to recycling or composting because the energy and materials required to manufacture a package are only expended once.
The Probiotic Powder for Face + Scalp Refill
In alliance with boscia's commitment to have 100% of packaging made from recyclable, post-consumer recycled, or be refillable by 2025, the refillable container is the brand's first-ever plastic-free refill option. The refill packaging is made of paper that can be easily recycled, or reused for storage.
NOW AVAILABLE at Shoppers Drug Mart