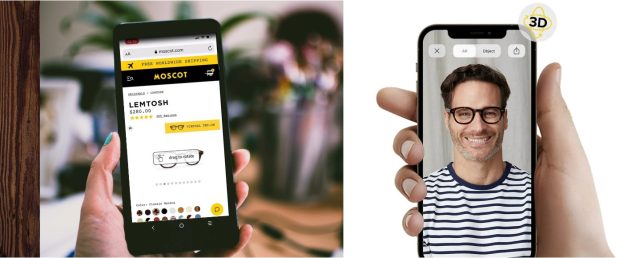 Shopping for a new pair of glasses online can be challenging for many as there are multiple factors and characteristics to consider, such as one's face shape, eye colour, hair colour, and lifestyle. MOSCOT's true-to-scale technology provides a realistic view of how the frame will look in your face. The virtual Try-on experience makes it easy to find your next pair of glasses or sunglasses online, without having to step into a store or purchasing something you are not certain about.
Find frames that you love, enable your camera, and test out all the styles you've been wondering about!
ABOUT MOSCOT
The MOSCOT optical roots were first planted in America by Great Great Grandfather and family patriarch, Hyman Moscot, who arrived from Eastern Europe via Ellis Island in 1899. Hyman began selling ready-made eyeglasses from a pushcart on Orchard Street on Manhattan's famed Lower East Side.
Now renowned worldwide for its iconic eyewear, MOSCOT infuses its unmistakably refined, downtown aesthetic with over 100 years of eyewear expertise and unparalleled craftsmanship to create its timeless eyewear. While now recognized as a global fashion brand, MOSCOT remains, at heart, a neighborhood optical Shop.