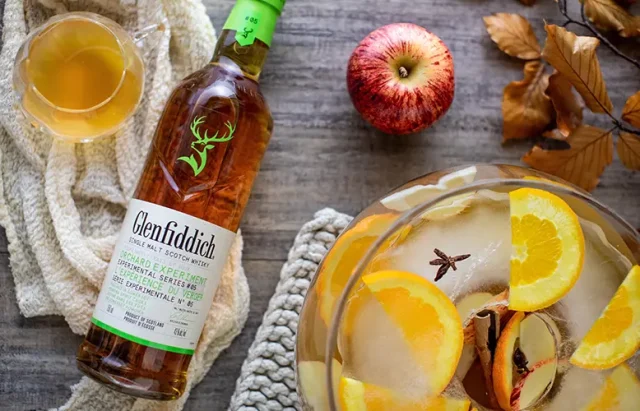 As cool weather looms and crisp, coloured leaves begin to fall from fiery-hued trees, Autumn, affectionately known as whisky season, commences. Glenfiddich, Canada's favourite single malt scotch whisky, makes its mark on the season with special serves guaranteed to make a delicious impression.
While many associate single malts with cooler weather, true aficionados know whisky can and should be enjoyed year-round. As autumn casts over Canada and Fall gatherings begin to take shape, Glenfiddich Scotch Whisky shows Canadians of legal drinking age how to serve and savour luxurious single malts in time for sweater weather.
GLENFIDDICH BOURBON BARREL RESERVE MAPLE OLD FASHIONED
With a deep, vibrant nose of vanilla, caramelized brown sugar and cinnamon, and a beautifully rich and sweet taste layered with creamy toffee, woody spices, candied orange peel and toasted oak, Glenfiddich 14 Year Old Bourbon Barrel Reserve will stir seamlessly into cozy Bourbon cocktails such as the Old Fashioned. Glenfiddich delivers a delicious impression with an autumn twist of maple and flamed orange zest for a touch of smokiness, making this an exemplary single malt cocktail to enjoy amongst gathered friends or over a Thanksgiving feast.
INGREDIENTS
2 oz Glenfiddich 14 Year Old Bourbon Barrel Reserve
¾ oz Pure Maple Syrup
3 Burnt Orange Peels
3 dashes Angostura Bitters
INSTRUCTIONS
In a mixing glass, add in two of your burnt orange peels. Pour in maple syrup, bitters, and whisky. Fill your mixing glass with ice and stir well. Strain over 1 large ice cube. garnish with remaining orange peel.
*For an optional autumn twist, Glenfiddich suggests a buttery popcorn infusion. Prepare 2 cups of heavily buttered popcorn, place into a sterile container and pour maple syrup over top with 2 tbsp boiled water. Stir to combine. Let this sit in the fridge, covered, for 3 days before straining. Garnish with popcorns.
GLENFIDDICH 14 YEAR OLD BOURBON BARREL RESERVE NEAT
When it comes to enjoying the toasted notes of fall, Glenfiddich 14 Year Old Bourbon Barrel Reserve will peak the interests of Bourbon enthusiasts and scotch lovers alike. Smooth and sophisticated, Glenfiddich Malt Master Brian Kinsman matured this single malt for 14-years exclusively in ex-bourbon casks, before finishing in deeply charred, new American Oak casks from Louisville, Kentucky.
"Glenfiddich 14 Year Old Bourbon Barrel Reserve is the perfect marriage of bourbon sweetness and scotch complexity," comments Brian Kinsman, Glenfiddich Malt Master. "Finishing in American Oak casks plays a significant role in the woody, warm flavour profile of the whisky. Delivering the smoothness of scotch with the sweet richness of American bourbon."
TASTING NOTES
Nose: Deep vibrant vanilla oak notes with hints of citrus, caramelized brown sugar, and cinnamon. Baked apple and ripe summer fruits are balanced with the rich oaky aromas.
Taste: Beautifully rich and sweet with layers of creamy toffee, woody spices, candied orange peel and fresh toasted oak. Strong malt notes with a solid representation of oak, fruit, and spice. Silky mouthfeel, flavours of corn and caramel with oak and cinnamon.
Finish: Long lasting with a lingering sweetness.
ABV: 43%
STAG'S ORCHARD PUNCH BOWL
Ripe with notes of fresh pear and orchard fruit, Glenfiddich Orchard Experiment's golden-hued liquid is rich with crisp orchard fruit flavours, sweet creamy toffee, caramelized apple, and woody spice, attributed to the four-month finishing period in sweet Somerset Pomona Spirit Casks.
"The crisp notes of Orchard Experiment will lend themselves perfectly to autumn occasions, and will add a brightness to spiced cider cocktails, warm hot toddies, or enjoyed neat," comments Jamie Johnson, Glenfiddich National Brand Ambassador in Canada. "A punch bowl cocktail is great for fall entertaining, and it's a heavy hitter when it comes to fall flavours! What's great about this recipe is it can also be made as a single serving, which is great for smaller gatherings."
INGREDIENTS
5 Brown Sugar Cubes
2 oz Club Soda
4 oz Ginger Beer
8 oz Glenfiddich Orchard
3 oz Amaro (Nonino Style)
4 oz Fresh Apple Cider (unsweetened)
2 oz Freshly Squeezed Orange Juice
2 oz Freshly Squeezed Lemon Juice
Apple Slices, Cinnamon, Star Anise, and Orange Wheels for Bowl
INSTRUCTIONS
In a pitcher, combine sugar cubes and club soda. Stir and breakdown the sugar until combined. Add in the rest of the ingredients (except fresh fruit) and stir. Fill with a handful of large ice cubes and store into fridge until ready to serve.
In punch bowl, add in your large ice cubes, your fresh fruits and spices and pour your drink into the punch bowl.
*Makes 6 servings – single serve recipe below.
STAG'S ORCHARD PUNCH BOWL *Single Serving Recipe
1.25 oz Glenfiddich Orchard
½ oz Amaro Nonino
¾ oz Fresh Apple Cider
½ oz Brown Simple Syrup (1:1)
¼ oz Orange Juice
¼ oz Lemon Juice
Ginger Beer
Garnish – Apple Slices, Orange Wheel, and Cinnamon Stick
In a shaker with ice, add all your ingredients except ginger beer and garnish. Give this a quick shake. Strain over fresh ice in Collins glass, top with approximately ½ oz – 1 oz of ginger beer and garnish with apple slices, orange wheel and cinnamon stick.
GLENFIDDICH ORCHARD EXPERIMENT NEAT
Evoking crisp autumn flavours reminiscent of a ripe apple orchard, Glenfiddich Orchard Experiment launched in Canada in 2022, marking the first time a Scotch Whisky has been finished in Somerset Pomona Spirit Casks.
Created in collaboration with the Somerset Brandy Cider Company, Glenfiddich Orchard Experiment draws upon the flavours imparted by Somerset Pomona casks, a spirit made from a secret blend of apple juice and Somerset Cider Brandy, which are married and matured in oak.
TASTING NOTES
Nose: A classic Glenfiddich with a wonderfully fresh pear fruitiness balanced with delicate oak notes.
Taste: An initial burst of ripe orchard fruits on the palate softens and develops into sweet creamy toffee, caramelized apple, and woody spice.
Finish: Long lasting sweetness
ABV: 43%
To learn more about the world of Glenfiddich globally, please visit www.glenfiddich.com.
Cocktail recipes in this release are created by Monica Carbonell, Founder and Beverage Director of Liquid Culture.