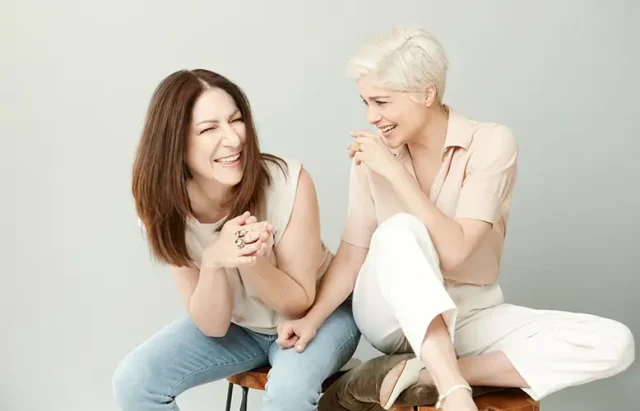 QVC®, a world leader in live video commerce ("vCommerce"), today announced the debut of GUIDE Beauty, a groundbreaking brand at the intersection of beauty, accessibility and empowerment, premiering on-air and on QVC.com. Guided by the principles of inclusivity and innovation, GUIDE Beauty has created a remarkable line of multi-use tools and formulas that not only enhance personal care routines but also empower individuals to embrace their independence and beauty. The direct-to-consumer brand selected QVC for its first retail launch and will leverage the video commerce platforms to showcase and demonstrate the product, share the story behind the brand and connect with customers in a new way.
GUIDE Beauty was founded by makeup artist and beauty educator Terri Bryant who was influenced by her own dexterity challenges and Parkinson's diagnosis to create a more inclusive approach for the beauty industry with products designed for the broadest universe of makeup users. Recognizing the diversity of needs among consumers, the brand's products feature an ergonomic design that ensures simplicity even for a makeup novice and comfortable use for individuals with a wide range of dexterity and mobility levels. Actor, best-selling author and QVC Brand Ambassador for Accessibility, Selma Blair, was appointed as the Chief Creative Officer of GUIDE Beauty in 2022. Together Bryant and Blair are redefining the beauty industry with uniquely designed and simply beautiful products that bring joy to a broad universe of makeup users.
"We are proud to be part of this milestone in GUIDE Beauty's journey and we are excited to bring this new and innovative product to our customers," said Anna Baker, Vice President of Beauty and GMM of QVC. "GUIDE Beauty has reimagined the landscape of beauty products by placing accessibility and design at the forefront of its mission and creating products that beautifully blend form and function. Terri and Selma are both trailblazers in the community and we are excited for them to share their relationship and empowering stories with our customers."
The QVC launch will include the GUIDE Wand applicator along with the GUIDE Line Luxe Long-Wear Eyeliner in choice of 'Black' or 'Brown'. The multi-use GUIDE Wand was designed with precision in mind so you can now master eyeliner, false lashes, lipliner and more. The ergonomic design boasts a replaceable, soft and flexible precision tip applicator that's gentle on the skin and delicate on the eyes. The easy-to-hold handle steadies the hand to make even rushed application a cinch. The set will retail on QVC for $39.00.
"We saw QVC as the perfect home for GUIDE Beauty because of their commitment to the customer and the power of their platforms to allow us to demonstrate our innovation and share our story," said Bryant. "GUIDE Beauty's mission is Universal Design – when we design with all people in mind, we simply create better solutions and products for wherever you are in the arc of your life. QVC will allow us to bring this mission to more customers through live and engaging video shopping."
"The GUIDE Wand is such a paradigm shift in the beauty industry," said Blair. "I have always loved makeup, and the wand has allowed me to be more confident in my ability to do it. When something like the GUIDE Wand comes along, you're like, oh, actually this is effortless and so much easier. I'm excited to share GUIDE with the QVC customer because QVC makes shopping a fun and positive experience and I'm proud to be a part of both these companies that are bringing more accessible products to life."
GUIDE Beauty is now available on QVC.com and will premiere on-air on September 15 during 'Friday Night Beauty' at 10 p.m. EST with Terri Bryant and Selma Blair.