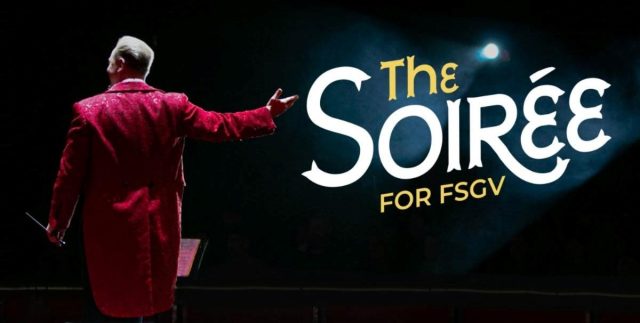 When life is at its most difficult, finding support can be a challenge, but Family Services of Greater Vancouver (FSGV) – one of the region's oldest and deepest non-profit social services providers – meets people in crisis where they're at. On October 27, FSGV invites the public to join us for The Soirée presented by The McGrane-Pearson Endowment Fund to support our neighbours in need.
Back in person after a two-year period of virtual fundraising, this signature event takes a cue from classic circus entertainment, transforming the Terminal City Club into a delightful display of elevated carnival bites and roving performers. This year's entertainment is provided by Bill Costin, a classical and jazz pianist and composer, Cookin' With Brass, a horn-forward, seven-piece funk band, and NZR Productions, an international circus company that specializes in awe-inspiring performance.

Host Michael Newton, Community Reporter at Global BC, will be joined by Maynard's Hugh Bulmer for a spectacular live auction and raffle featuring round-trip tickets from Air Canada, fabulous getaways, dining and shopping and experiences, and more. All proceeds from The Soirée allow FSGV to provide critical programs and services to individuals and families in vulnerable circumstances across Great Vancouver. "Across all of our program areas, we empower individuals, families, and communities to build a brighter tomorrow," says Maria Howard, CEO at Family Services of Greater Vancouver. "We take a trauma-informed approach as we walk alongside clients throughout their journey, and we guide people to programs and services for a full continuum of care. Your support of The Soirée helps us do just that."
Every year, FSGV supports more than 10,000 people in crisis. When you buy a ticket to The Soirée, you're helping to ensure that vulnerable youth can eat a warm meal and have a safe place to spend the night; victims of violence can access safety planning and supports to feel more secure; and families can gain access to the counselling and education they need to plan for the future with peace of mind.
So come one, come all – put on your dancing shoes and prepare to be amazed. The Soirée is sure to be an evening of excitement and awe!
To purchase tickets and learn more about The Soirée, please visit fsgvsoiree.com. 
Single tickets: $250
Party of 10: $1,900
Custom sponsorship opportunities available