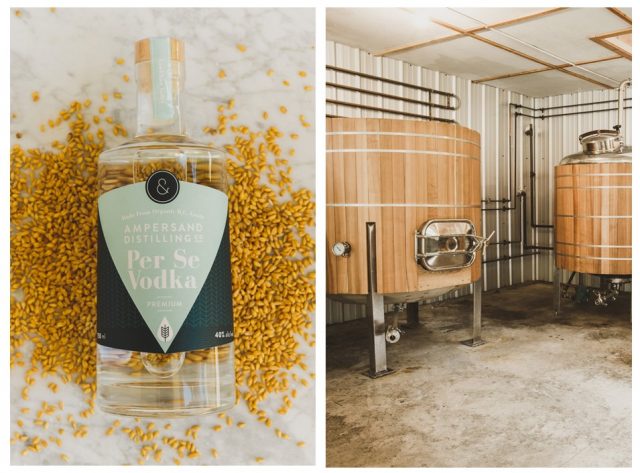 Ampersand Distilling Co., the small-batch distillery that pays homage to B.C. agriculture, was recognized as the best in its class at the 2020 World Vodka Awards. The World Vodka Awards select the very best in all internationally recognized styles of vodka. This competition awards and promotes the world's best vodka to consumers and trade across the globe, and this year, Ampersand's Per Se Vodka was not only the Canadian winner in Varietal Vodka but also voted as the World's Best Varietal Vodka.
Per Se Vodka's creamy sweetness represents the pure expression of organic B.C.-grown wheat. The grain is milled, fermented and distilled, then diluted with spring water (sourced from Ampersand's five-acre, organic farm), creating a luscious body and silky sweetness. The custom-built stills — better known as Dot and Dash— form the heart of the distillery and are also key in developing Ampersand's award-winning spirits. Hand-built by Jeremy and Stephen Schacht, the stills are unlike any other in the world. Dot is packed with tiny coils that take advantage of the maximum surface area, producing spirits that contain nearly 97 per cent alcohol while still allowing the flavours of B.C. wheat to shine through.

Per Se Vodka's nod to B.C. wheat was also noticed by the judges at the World Vodka Awards who noted that this signature spirit is a "great declaration of sweet grain on the nose" and "quite inviting." Sipped straight or added into an after-dinner aperitif, Per Se Vodka is definitely a staple to add to one's bar cart. 
Based in the Cowichan Valley, Ampersand Distilling Co. was founded by the Schacht family in 2014. With a family background in engineering, the Schacht's created the distillery to combine their scientific knowledge with traditional distilling techniques and organic farming to produce handcrafted small-batch spirits. Ampersand started 2020 off right not only with recognition at the World Vodka Awards but also with wins at the World Gin Awards and the Canadian Artisan Spirit Competition. Rounding out their lineup of gin, vodka, dry vermouth, and green-walnut liqueur, Ampersand also plans to develop a sweet vermouth and an amaro this year. Spirit-lovers who appreciate a nod to B.C. homage can find Ampersand spirits in select private liquor stores across the province, at local farmer's markets and also by visiting the distillery for a tour, tasting and chat with the Ampersand family.  
For more information and to learn more about Ampersand's full collection of spirits, visit Ampersanddistilling.com.