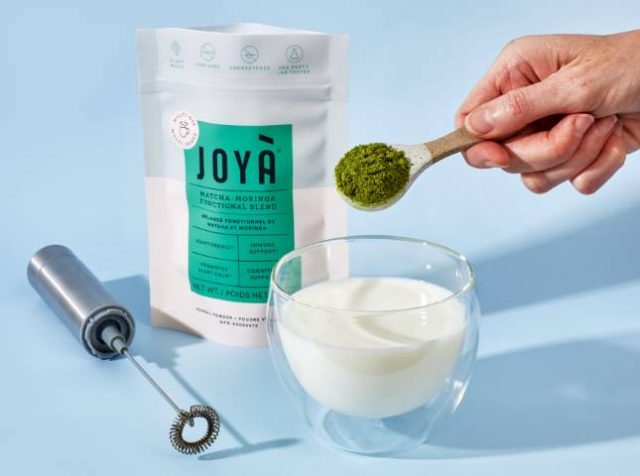 Celebrated Canadian functional food and wellness brand JOYÀ is excited to announce the launch of its product line on Amazon Canada. Canadian consumers are now able to purchase JOYÀ's premium Functional Blends directly from the company's Amazon Canada store.
JOYÀ first launched its US e-commerce site in Fall 2019 and quickly gained recognition in its category for the purity, superior quality and elevated flavors of the company's 100% pure botanical supplement blends. On a mission to simplify wellness, JOYÀ offers adaptogenic and functional ingredients, including herbs and mushrooms revered in traditional medicine, that seamlessly fit into your daily routine in one simple scoop. JOYÀ's unique blends — which are expertly formulated to deliver maximum efficacy and support multiple benefits, such as stress response, immunity, cognitive function and digestion — are beloved by wellness afficionados and discerning consumers alike.
From inception, the brand has prioritized impactful sustainability practices, responsible and transparent sourcing and rigorous third-party testing to provide the purest plant-based supplements free of toxins, fillers, preservatives or additives. The company is now thrilled to expand its presence back home in Canada, adding its Functional Blends, which have been authorized as Natural Health Products by Health Canada, to its line of plant-based and paleo handcrafted chocolate bars.
"We're overjoyed to finally be bringing our products to Canadian consumers who've been patiently and eagerly awaiting our launch as we navigated pandemic-related delays," stated founder Ruth Elnekave. "As a Canadian myself, I see firsthand the local wellness CPG space growing and diversifying, and it gives me great pride to bring JOYÀ to the marketplace for consumers here at home to experience the line and reap the benefits of our functional foods. We're excited to partner with a number of key wellness retail outlets, and Amazon Canada gives us yet another platform to further connect and engage with a new and wider customer base."
JOYÁ's signature blends include the Cacao Functional Blend, Matcha-Moringa Functional Blend and Turmeric Functional Blend. Each blend is offered in a resealable recyclable pouch. To learn more about JOYÀ, please visit joya.ca.