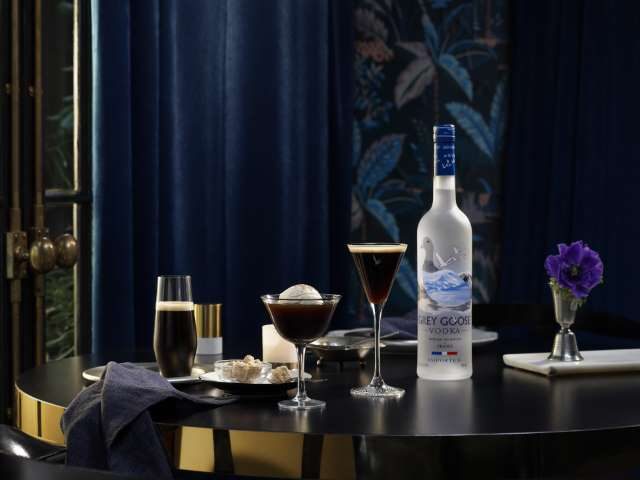 THE ESPRESSO: The thick, Italian-style coffee, beloved for its bold flavour, rich brew and no hassle preparation.
Derived from Grey Goose's signature ingredient, high quality French Winter Wheat, the smooth taste of Grey Goose Vodka pairs perfectly with premium espresso beans.
Treat yourself this National Espresso Day and celebrate every moment, big and small, by enjoying the iconic taste of espresso in a new form, with a Grey Goose cocktail.
L'ESPRESSO PETILLANT
2 parts GREY GOOSE® Vodka
5 parts carbonated cold brew coffee 3/4 parts salted simple syrup
Method: Chill vodka and coffee ahead of time. Pour vodka and coffee into a flute or small highball glass. Add simple syrup and stir gently.
GLACÉ CAFÉ
1 part GREY GOOSE® Vodka
3/4 parts chilled crème de cacao 1 part freshly made
1 bowl of the finest quality vanilla ice
cream (could substitute other flavours such as pistachio or chocolate).
Fleur de sel (optional garnish)
Method: Chill vodka and crème de cacao ahead of time in the same shot glass. While serving to guests, pour both shots table side over the ice cream and sprinkle with a touch of fleur de sel. Serve immediately.
GREY GOOSE® Espresso Martini Cocktail
1 .5 part GREY GOOSE® Vodka
0.75 parts Patrón XO Café
1.5 parts fresh premium espresso 1 pinch of fleur de sel
3 coffee beans for garnish
Method: Combine all ingredients in a cocktail shaker. Add ice and shake to chill. Strain into coupe glass. Top with 3 coffee beans for garnish.