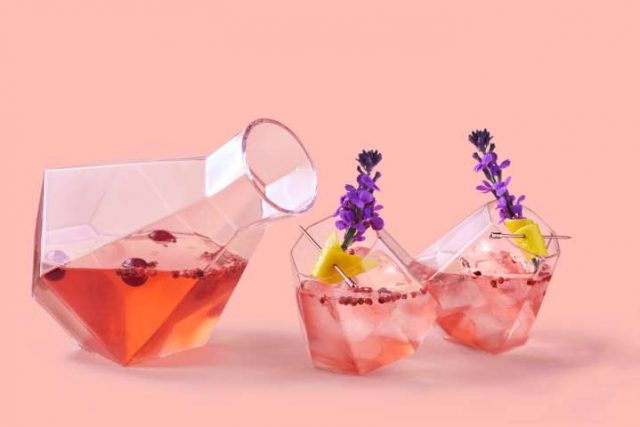 Lovers of all things pink have a new reason to rejoice: Beefeater, the world's most awarded gin, has announced the Canadian launch of Beefeater Pink, a bold new expression created by Master Distiller Desmond Payne MBE – a world-renowned leading expert in gin.
Beefeater Pink begins with the traditionally distilled Beefeater dry gin base, fusing it with natural strawberry flavours, citrus and classic juniper botanicals to deliver a delicate, finely balanced gin. Its transparent glass bottle was created to showcase its statement-making pink shade while its graffiti style logo brings to life the playful spirit of its London home.
"We're not the first out with a pink gin, but we were determined to get it right. Things move on and are cyclical and we need to be looking at new ideas that give consumers an innovative drinking experience," says Desmond Payne, Beefeater Master Distiller. "The strawberry works well with the other flavours in the gin. It was really important to me to get the right balance of the flavours and for it to not be too sweet."
Expertly crafted and distilled in London, Payne was inspired by the legacy of Beefeater's founder James Burrough, whose inventions included raspberry gin and cherry brandy, and who coincidentally began his career as a pharmacist on Yonge St. in Toronto. Beefeater continues to embrace Burrough's passion for colliding quality craftsmanship with experimentation and has created this natural strawberry flavour gin for the new generation of drinkers.
Beefeater Pink is best served with tonic water, lemonade or on the rocks with chopped fresh strawberries and served in a goblet.

PINK AND TONIC
Fill a round glass with ice
1.5 oz Beefeater' Pink
3 oz tonic water
Garnish with fresh strawberries

STRAWBERRY LEMONADE
1.5 oz Beefeater' Pink
3 oz  lemonade Splash of soda
Combine ingredients in a glass Garnish with lemon and fresh strawberries

PINK PEPPERCORN ROSE
1.5 oz Beefeater' Pink
0.5 oz peppercorn syrup
2 oz Moscato rose wine
2 oz white grape juice
Combine ingredients and top with a splash of tonic water Garnish with pink peppercorns, candied whole cranberries, and edible flowers