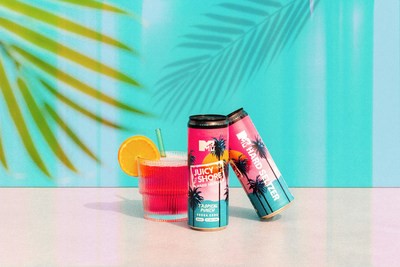 Today, Steam Whistle Brewing announces the launch of its exciting new ready-to-drink cooler MTV Hard Seltzer, Juicy Shore.  This collaboration with MTV Entertainment Group and Paramount Consumer Products extends the ways consumers can celebrate with this global powerhouse media brand. MTV has led pop culture worldwide for over 40 years by fueling conversation while being the ultimate music insider. "I want my MTV" could indeed be the anthem of 2022.  MTV Hard Seltzer, the must-try, refreshing vodka cooler, will be distributed by Steam Whistle initially across Ontario liquor stores, bars and restaurants.
MTV Hard Seltzer – Primed
This new Hard Seltzer plays off MTV's Jersey Shore. For the last five seasons Jersey Shore Family Vacation has been situated in Miami. Juicy Shore Vodka Soda quenches thirst with its tropical imagery and fruit-flavoured sensation. This classic tropical punch is juiced-up with premium neutral-spirit vodka, pours a pleasing coral colour and is lightly carbonated. The flavour combination of fruitiness, tartness and subtle sweetness will have you asking, "where's the beach"? Calorie- and sugar-conscious drinkers that are tired of sacrificing flavour for fitness will love that Juicy Shore is Gluten Free, and has only 4g of sugar and 120 calories per 355ml slim can. MTV Hard Seltzer has a light-hearted, tropical taste yet with a full 5% alc./vol. hard seltzer punch!
A Hot Trend for Summer
Ready-to-drink beverages are a hot, growing trend, attracting drinkers from all customer segments. MTV Hard Seltzer delivers the category's desired low-cal/low-sugar recipe and pre-mixed convenience, but stands out with its full-flavour, vibrantly coloured packaging, playful graphics and legendary MTV personality. Adults relate to the music videos and nostalgic memories spawned by MTV's programming, parties and magnetic lifestyle cultivated over four decades. MTV Hard Seltzer is the drink that celebrates that spirit, rooted in pop culture and a social lifestyle that encourages an authentic expression of self. What better beverage to fuel experiences together with your besties?
Slim cans of Juicy Shore Vodka Soda are targeted to hit shelves beginning this week.
Follow @MTVHardSeltzer on Instagram, and Facebook. Join the conversation using #MTVHardSeltzer and #IwantmyMTV
MTV Entertainment Group
MTV Entertainment Group is a preeminent global media company, connecting with its audiences through nine iconic brands including MTV, Comedy Central, VH1, CMT, Pop, Logo, Smithsonian, Paramount Network and TV Land. Additionally, MTV Entertainment Studios produces award-winning series, movies and documentary films. MTVE also uses its reach for social impact, spearheading broad change-driven coalitions through mental health and civic engagement campaigns.
About Paramount Consumer Products
Paramount Consumer Products oversees all licensing and merchandising for Paramount (Nasdaq: PARA, PARAA), a leading global media and entertainment company that creates premium content and experiences for audiences worldwide. Driven by iconic consumer brands, Paramount Consumer Products' portfolio includes a diverse slate of brands and content from BET, CBS (including CBS Television Studios and CBS Television Distribution), Comedy Central, MTV, Nickelodeon, Paramount Pictures and Showtime. With properties spanning animation, live-action, preschool, youth and adult, Paramount Consumer Products is committed to creating the highest quality product for some of the world's most beloved, iconic franchises. Additionally, Paramount Consumer Products oversees the online direct-to-consumer business for CBS and Showtime programming merchandise, as well as standalone branded ecommerce websites for Star Trek, SpongeBob, South Park, and MTV.
Steam Whistle Brewing
Steam Whistle, known as Canada's Premium Beer, brews using only four natural ingredients with no additives or preservatives. With its award-winning beers, distinctive packaging and celebrated culture, Steam Whistle has become a brand well-loved by Canadians, coast to coast. This industry leader now owns and distributes the complementary line of Beau's All-Natural Brewery beers and MTV Hard Seltzer. Steam Whistle's portfolio proudly includes partner brands for distribution across Canada: Fat Tire Amber Ale and Voodoo Ranger IPA from American craft beer partner, New Belgium Brewing; the Sandbagger line of RTD Gin Beverages; and a diverse line-up, including Electric Unicorn, from Phillips Brewing & Malting Co.  Steam Whistle offers great hospitality at its Taproom, Biergärten Restaurant and Event Spaces in the historic Roundhouse near Toronto's CN Tower.
Visit steamwhistle.ca