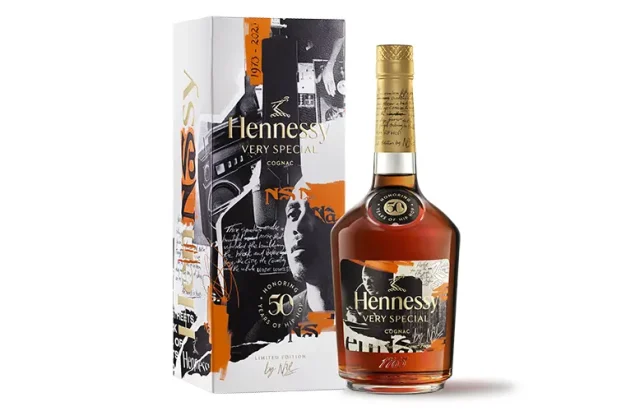 Hennessy, the world's leading cognac brand and one of the most name-dropped brands in Hip-Hop, collaborates with Grammy-Award winning rap legend Nas to release a limited-edition Hennessy V.S bottle in celebration of the 50th anniversary of the music style. A collection of unique designs pays tribute to the genre's past, present, and future and its undeniable cultural impact that permeates throughout the world. In addition, the commemoration highlights Hennessy's legitimate connection to the community—a rich blend of those who pioneered and shaped the art form as we know it and the nonconforming new guard who continues to up the game.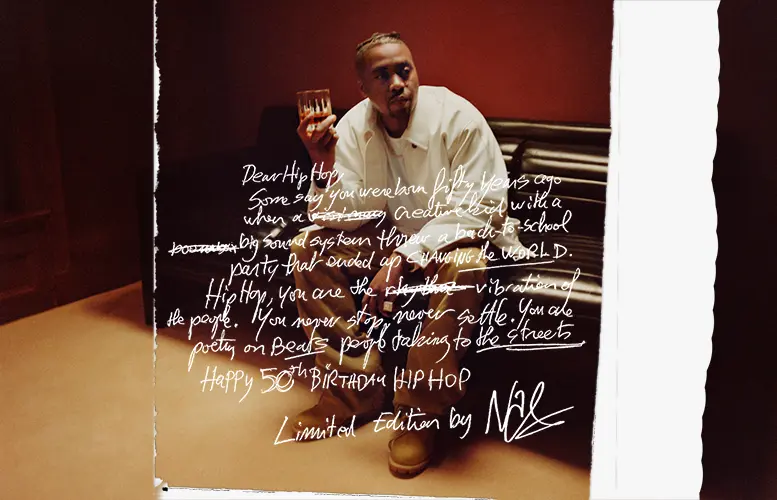 RAP ICON
Since the prolific 1994 debut of his first album Illmatic at just 20 years old, Nas set a new standard to become a permanent fixture in Hip-Hop. A native of Queens, New York, his compelling, poetic, first-person narrative of young life in the inner city, defied the stereotypical violent and misogynistic themes of the time. Known for his raspy voice, complex rhyme patterns, clever wordplay, and storytelling ability, the groundbreaking rapper is one of the most respected and influential musicians of all time. Throughout his career, he has recorded fifteen critically acclaimed studio albums, ten of which are certified gold, platinum, or multi-platinum, selling over thirteen million records in total.
TIMING IS EVERYTHING
Born only one month after the designated birthday of Hip-Hop, Nas came of age in an era steeped in change—witnessing firsthand the raw evolution of the genre at its purest state. During those humble beginnings, Hennessy was adopted and given emblematic status by the flourishing inner-city circles of hip-hop poets. While other brands initially distanced themselves, Hennessy authentically supported and reinforced its bond with its new growing revolutionary tribe. As a result, today, the brand remains one of the most lyrically referenced alcohol brands in Hip-Hop, with mentions in over 2,500 songs.
THE ORIGINAL SPIRIT OF HIP HOP
"Hip-Hop, you are the vibration of the people. You never stop, never settle. You are poetry on beats, people taking to the streets. You are rhythm, art, and motion," Nas ruminates in an ode to Hip Hop drafted specially for this collaboration. "Through your reflection, we can see where we've been, where we are, and where we're going."
Speaking on the collaboration Nas said, "It's an honor to collaborate with Hennessy to commemorate this moment for the art form. Hip-Hop has always had a special connection with Hennessy, and I'm excited to celebrate the culture's 50th anniversary with a brand and product that pays tribute to its history and impact."
"Hennessy has always had a strong connection with the music industry, particularly Hip-Hop," said Laurent Boillot, Hennessy's CEO. "Hennessy is truly the original spirit of Hip-Hop, which the culture embraced as a badge of success and good taste. We, as a brand, are particularly honored by this recognition. We leaned into this and continuously supported the culture. To celebrate this heritage we couldn't have a better partner than Nas."
The limited-edition V.S bottle features a bold design that mixes elements of Hip-Hop aesthetic with Hennessy's iconic branding – an impactful juxtaposition of timeless tradition and disarming unconventional certainty. Handwritten notes from a love letter to Hip-Hop written by Nas are offset by vibrant orange accents (the recording artist's favorite color), resulting in a disruptive, seemingly spontaneous visual collage anchored by a powerful black-and-white portrait of Nas. In an unexpected playful namesake branding twist, "HenNASsy" is displayed across the packaging, with subtle references to graffiti art, the New York City flag, and one of the artist's recent album artwork.
Hip-Hop was born in the Bronx, New York, in 1973 when a young DJ threw a party in his community center. His innovative use of turntables and the "breakbeat" technique would influence generations of musicians and artists worldwide who ultimately took the movement from underground to today's global phenomenon.
In addition to global event activations to celebrate this moment, Hennessy will also partner with leading Hip-Hop and Afrobeat Festivals to further mark the celebration to create a unique, interactive Hennessy Hip Hop 50th experience to engage with talent and fans around the world.
The limited-edition Hennessy V.S bottle will be available at select retailers and online starting from July 2023 and will be released in limited quantities. For more information about the commemorative bottle and how to get involved in the celebrations, visit hennessy.com.