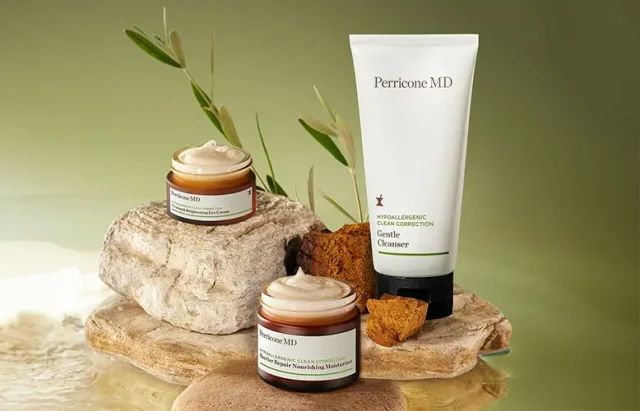 Perricone MD continues its dedication to breakthrough skincare solutions with the launch of the Hypoallergenic Clean Correction Collection. This revolutionary clean regimen was specifically formulated with a Three-Tier approach to soothe, protect and correct the most sensitive skin. The collection includes gentle, yet highly effective formulas, specifically developed with science-backed strength to deliver unparalleled results.
Inspired by our foundational and innovative Three-Tier philosophy, the Hypoallergenic Clean Correction Collection is a game-changer for sensitive skin.
TIER 1: Stress Reduction – Soothe irritated skin with comforting plant-derived adaptogens like holy basil and mushroom extract.
TIER 2: Skin Barrier Protection – Reinforce and support while shielding against environmental aggressors with skin-protecting ceramides and niacinamide.
TIER 3: Age Defiance – Visibly smooth, firm and even skin tone over time with clinically-proven, advanced peptides and plant-derived retinol, bakuchiol.
The Gentle Cleanser is a low-foaming wash that effectively removes dirt and oil without drying the skin, leaving it thoroughly cleansed and moisturized. It features holy basil, glycerin and fermented rice water to soothe and nourish for refreshed, hydrated-looking skin. In consumer testing, 97% said skin feels cleansed & refreshed*.
*In a consumer study of 101 women after 7 days.
The Barrier Repair Nourishing Moisturizer was designed to be ultra-restorative and hydrating to protect the skin's natural moisture barrier and reduce redness, while improving the look of skin elasticity and firmness. Formulated with mushroom extract, ceramides and peptides, this deeply nourishing moisturizer softens the appearance of lines and wrinkles for a smoother, more supple complexion. In clinical testing after 8 weeks, 90% saw improvement in skin hydration for 72 hours*.
*In a clinical study of 32 women.
The Firming & Brightening Eye Cream soothes, hydrates and comforts the sensitive skin around the delicate eye area. This gentle yet effective eye cream is formulated with mushroom extract, squalane and peptides to visibly firm and brighten while reducing crow's feet, lines and wrinkles. In clinical testing, 93% saw improvement in skin texture, radiance, brightness and reduced redness*.
*In a clinical study of 32 women after 8 weeks.
The entire Hypoallergenic Clean Correction Collection has been awarded the National Psoriasis Foundation Seal of Recognition marking these products as safe for those with sensitive skin. In addition, the entire collection is vegan, hypoallergenic, non-comedogenic and dermatologist-tested, as well as, free of the 26 known allergens, fragrance, gluten, sulfates, silicones, parabens, formaldehyde, butylene and propylene glycol, PEG, phthalates, BHA and BHT.
"We wanted to ensure that sensitive skin users never have to choose between addressing their sensitive skin or aging concerns," says Jennifer Trovel, Chief Marketing Officer. "As a leader in science-backed skincare, we knew there was an opportunity to deliver on both efficacy and gentleness and have proven such through extensive clinical, consumer and safety testing. Formulated with the power of Perricone MD and reinforced by a clean positioning, sensitive skin consumers will never have to compromise on their skincare routine again."
"Our original Hypoallergenic skincare products had been a bestseller for years. When we relaunched the franchise in 2020, with updated clean formulas suitable for the most sensitive skin, we made the mistake of adding CBD as the key anti-inflammatory ingredient. Not only was this polarizing for consumers, the restrictions around CBD made the franchise impossible to market, gain broad appeal or achieve meaningful distribution," says Robert Koerner, President. "Like many other brands, we've abandoned the once-trendy CBD story, and redeveloped a new franchise that delivers powerful, comprehensive anti-aging benefits with 100% clean ingredients, suitable for the most sensitive skin."