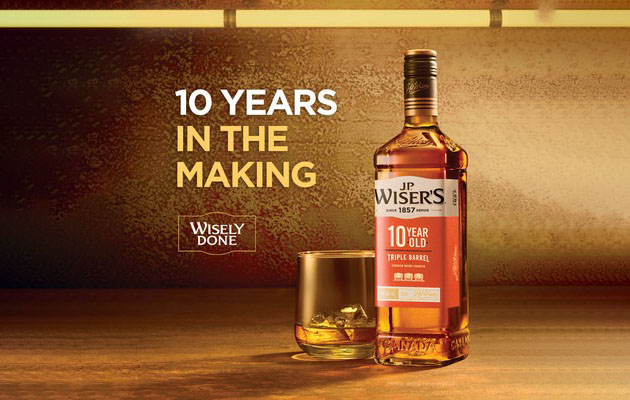 J.P. Wiser's is proud to add the new 10 Year Aged, triple barrel distilled whisky to its distinguished line-up of Canadian whiskies. The premium blend has seen great success in Europe and J.P. Wiser's is now bringing it to North America.
The award-winning blend of corn and rye, aged 10 years in new white oak, once used American bourbon and seasoned Canadian whisky casks, makes it the perfect sip that is best enjoyed neat or on the rocks.
J.P. Wiser's 10-Year-Old features a smooth, full, and balanced body with a complex combination of caramel, honeycomb toffee, vanilla, dried fruits, and rye spices along with subtle undertones of green apple and pear drops.
"A bold, yet smooth whisky, J.P. Wiser's 10-Year-Old is one of my favourites," said Dr. Don Livermore, master blender. "This is J.P. Wiser's most versatile spirit in spiciness and taste profile that is sure to impress any whisky lover on its own or in a cocktail."
Try J.P. Wiser's 10-Year-Old in the Classic Stone Fence cocktail – a uniquely Canadian drink best enjoyed after a long day.
Classic Stone Fence Recipe
Ingredients:
2 oz. J.P. Wiser's 10-Year-Old Whisky
0.5 oz. Maple Syrup
6 oz. Hard Cider
Ice Cubes
Instructions:
Combine all ingredients in a glass and stir. Enjoy!
J.P. Wiser's 10-Year-Old Whisky is a great gift for any whisky enthusiast or the perfect addition to your home bar cart. The 750 ml whisky is available in liquor stores across Canada. Please check your local retailer for pricing and availability. Visit jpwisers.com or follow @JPWisers on Facebook and Instagram to learn more.