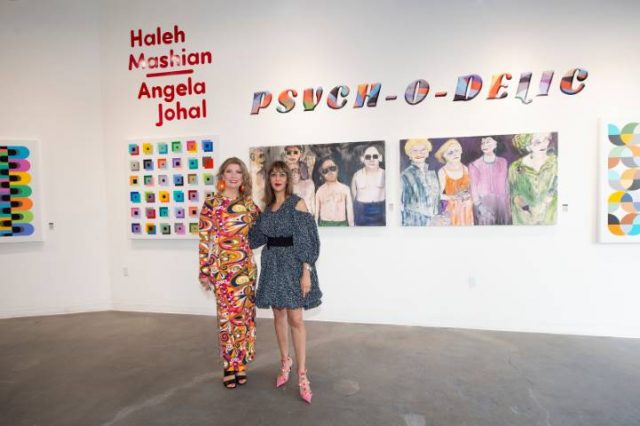 MASH Gallery was one of the first Art Galleries in Los Angeles to open up in a COVID safe way back in March. The second exhibition of the year, MASH Gallery Owner Haleh Mashian and Artist Angela Johal's "Psycho-o-delic" was shown on May 15th with an evening of bright colors, upbeat music, and incredible art. After the last year, MASH Gallery continues to bring people together in a safe way.
Available now until June 26th, the reception of Johal's collection and Mashian's ability to sell a show brought the feeling of both the Bay and Los Angeles together. Johal is known for her unconventional ways of throwing color together on canvas and challenging herself to create something out of the unpredictability.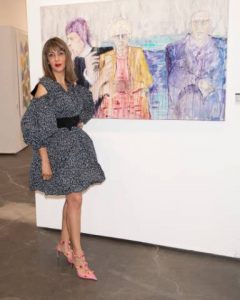 Mashian is known for her abstract work and ability to use social commentary in a beautiful way. Her work combines nature and deep emotions that everyone viewing can connect to in some way.
The opening night was such a success, with big names such as Model Verina Marcel, Selling Sunset star Amanza Smith, Real Estate and Sustainability Mogul Bronwyn Jones, and actors Sammi Rotobi, Adrian Dev, and Caitlyn O'Connor. When the event began, guests lined up to enter the gallery as the live DJ created an atmosphere that you would not forget. With complimentary drinks and a collection that can only be described as an invitation to be your truest self, opening day of the exhibition was a hit. The invitation-only opening was such a success and buzz for the work was all over town and social media the next day, deservingly so.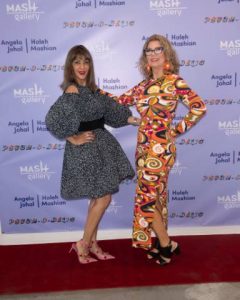 The exhibition can be described as a breath of fresh air, both physically and emotionally. Allowing people to finally come out of their homes and come into something so beautiful and personal is what makes MASH Gallery so special.
MASH has been around for a long time, and owner Mashian has been creating her own art for over 20 years. Mashian focuses on local (and some international) artists that really capture her eye and need a platform to expand their audience, an audience who loves art. Johal Grew up with art in California during the 60's and 70's. "I paint primarily geometric paintings that are reflective of the formal aspects of mid-century hard edge, colorfield and Op art painting that are created in accompaniment with music." she says.
She goes on to say she wants her paintings to be truthful, and everyone who has gotten the pleasure of viewing her work in-person or online can gather that her work is personal and truthful.
To learn more about MASH Gallery, Mashian, or Johal visit www.mashgallery.com