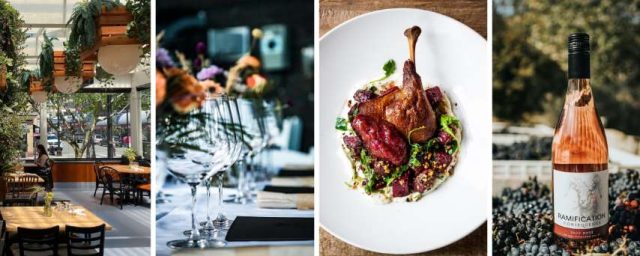 Sip and savour wines from Oliver Osoyoos Wine Country during a delicious wine dinner on Wednesday March 9, 2022, at Victoria's 10 Acres Bistro.

Chef Marcelo Najarro and his team will prepare a five course feast focusing on ingredients grown by their dedicated farmers on nearby 10 Acres Farm, with each dish carefully paired with wines from four small, independent wineries located in Oliver Osoyoos Wine Country at the southern tip of British Columbia's Okanagan Valley.

Gold Hill Winery's artisanal approach is evident in their small lot, handcrafted wines from the Golden Mile Bench and guests can enjoy their 2020 Sauvignon Blanc and 2014 Grand Vin. With a dedication to hands-on farming and creation of wines that express a sense of place, Intersection Estate Winery will be pouring their 2019 Viognier Marsanne, 2017 Silica Merlot and rare Amarone-style 2014 Appassimento. One of the region's newer and northern-most wineries, Ramification Cellars will pour their Sparkling Celebration Rosé and 2019 Verification Pinot Noir and vinAmité Cellars, just south of Oliver will present their 2019 Petit Verdot and Ouest Port-style to finish the evening.

"We couldn't be happier to return to Victoria for our popular Savour the Sun wine dinner and bring an exceptional line up of high quality wines and some of our wonderful Wine Country characters to the table," says Jennifer Busmann, executive director of Oliver Osoyoos Wine Country. "We always love the energy at 10 Acres Bistro and have great admiration for the impressive wine portfolio built by Wine Director Adriano Cartuliares."

The Savour the Sun Victoria wine dinner will seat attendees together in groups and follow all elements of the restaurant's COVID safety plan. Representatives from each winery will tell the story of their wines to the room, as each wine is presented, creating an interactive dining experience in a safe and thoughtful way.

Limited reservations are available online for $162.50 per person (including gratuity, plus tax).