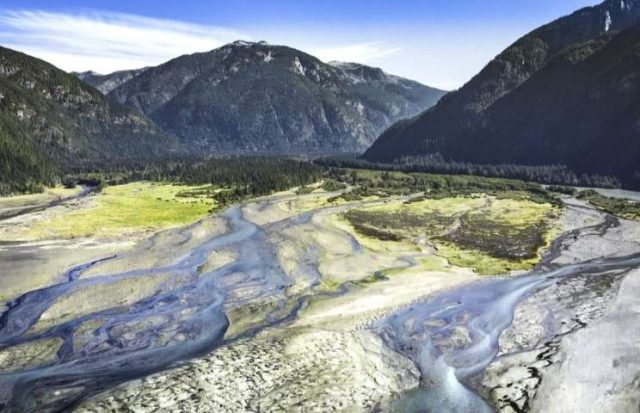 Everything is Connected
Indigenous Tourism BC and sustainable apparel brand ecologyst are pleased to announce the formation of a partnership with the mission to engage in activities that educate consumers on a better way of life that includes a commitment to slow fashion and slow travel.
Indigenous peoples in BC maintain a deep connection to the lands, waters, animals, and each other. These connections are more important than ever before. Through partnerships, Indigenous Tourism BC (ITBC) has been exploring ways to attract respectful and responsible travellers who align with Indigenous values and take action to learn about them. Responsible and respectful consumers and travellers also care about the environment and each other.  ITBC honours the Seven Teachings in everything we do–these teachings are at the core of our corporate culture. We seek genuine connections with respectful partners who celebrate Indigenous knowledge, share resources, demonstrate integrity and intelligence, and commit to working together. 
ITBC and ecologyst share a commitment to a community of Indigenous and non-Indigenous peoples who respect the waters, lands, plants, animals, and others. The partnership between ITBC and ecologyst expresses our shared values and alignment with Indigenous and environmental health and quality of life for all.
When a clothing company aligns with values beyond profit, we listen. When they make choices that prevent damage to the environment, we agree. We notice when they succeed and contribute to a sustainable future for all. When they do well, and it benefits Indigenous people, we connect. When we grow together and educate others on the path to health and wellness for all, we are partners.
Ecologyst is passionately working towards a sustainable future for people and the planet: crafting apparel for nature that's made locally in North America and their own factory in BC. Producing with all-natural fibres like organic cotton and ZQ-certified merino wool that biodegrade at the end of the clothing's life cycle, and also offering a repairs for life program they are working towards a circular, local economy. Clean water supplies, emissions, workers' health, and social responsibility are all key factors in their decision-making.  ITBC and ecologyst are committed to educating consumers for a better way of life that includes slow fashion and slow travel. We aim to collaborate and connect on travel and outfitting, locations and projects, content creation and social media. Together, we will share audiences, events, and education in ways that demonstrate love, respect, courage, honesty, wisdom, humility, and truth. 
For more information about Indigenous Tourism BC, visit www.indigenousbc.com