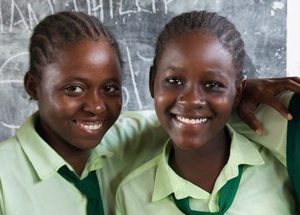 Help create a brighter future for girls everywhere! Sunday, October 11 marks International Day of the Girl, a global initiative that champions girls' rights around the world. To amplify this powerful message, Canadian registered charity One Girl Can is launching an online silent auction and inspiring social media campaign urging people to take action.
For the past 12 years, One Girl Can has supported girls in sub-Saharan Africa through the Cycle of Empowerment, a holistic approach that involves building schools, offering scholarships and hosting mentorship workshops in Kenya. Gender inequality persists as a global challenge, with COVID-19 compounding the difficulties millions of girls continue to face in accessing basic human rights, like safety and education. This is why One Girl Can is all the more focused on  their commitment to impacting gender equality through education and mentorship.
In the weeks leading up to International Day of the Girl, One Girl Can will launch a global call- to-action through an interactive social media campaign. Social media users will be encouraged to share their "girl hero" with the hashtag, #HereForHerFuture  to  raise awareness about International Day of  the  Girl. In tandem, One Girl Can will host a silent auction from September 29 to October 11th,  with 100% of proceeds supporting education for over 600 students attending the Ushirika School in Nairobi, located in the biggest urban slum in Africa. All donations will go toward completing  the Ushirika building — the new three-story cement structure will be equipped with a science lab, a new library, kitchen facilities and  classrooms to create a safe and dynamic  learning environment for the students.
"Besides being a fundamental human right, gender equality is essential to achieve societies with faster economic growth and sustainable development. Yet in many places, discrimination and violence against girls and women is still rampant." says Lotte Davis, CEO & Founder of One Girl Can. "International Day of the Girl is a crucial opportunity to spread awareness about gender inequality.
Through our One Girl Can #HereForHerFuture campaign and silent auction, we are asking our global community to unite and advocate for the empowerment and education of young girls and women everywhere."
For more information about One Girl Can's International Day of the Girl initiatives, or to donate, visit onegirlcan.com/girl. Get up-to-date campaign updates by following One Girl Can's social media handles: Twitter: @onegirlcan // Instagram: @onegirlcansociety // Facebook: @onegirlcan.
Join the conversation using the hashtags #HereForHerFuture #DayOfTheGirl, #GirlHero, #OneGirlCan.