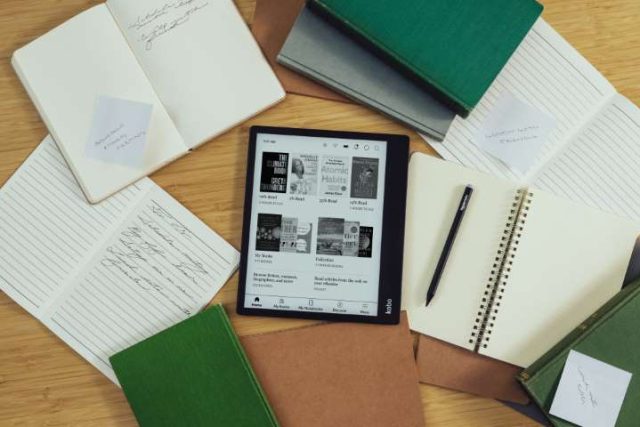 Rakuten Kobo announces Kobo Elipsa 2E, a freshly upgraded digital reading and writing experience designed for readers who want to engage with their eBooks and expand on their ideas like never before. Bundled with the new and improved Kobo Stylus 2, Kobo Elipsa 2E is the ideal eReader to help you focus, explore your ideas and stay organized while you do it.
Rakuten Kobo's in-house product designers and software developers hit the books and reimagined a best-in-class reading and writing package – Kobo Elipsa 2E. With a 10.3" glare-free E Ink touchscreen and ComfortLight PRO to reduce blue light and eyestrain, Kobo Elipsa 2E allows you to create and organize notebooks and seamlessly export them with integrated cloud services. Enjoy having your entire library and all your notes with you wherever you go thanks to the 32GB of storage and weeks of battery life on a single charge. Shift effortlessly from reading eBooks to listening to Kobo audiobooks with Bluetooth® wireless technology and feel good about your environmental footprint with Kobo Elipsa 2E's 85 per cent recycled plastic exterior, including 10 per cent ocean-bound plastic.
"For over a decade, we have been innovating in the digital reading space with our best-in-class eReaders, expansive eBook and audiobook selection, and top-rated Kobo Apps. Kobo Elipsa 2E is the latest step in our journey to make reading lives better, bridging gaps between print and digital books, and offering an unparalleled reading experience," said Michael Tamblyn, CEO, Rakuten Kobo. "We understand that, for many of our valued customers, reading is more than words on a page. It is about engaging with ideas. Marking up, highlighting, capturing inspiration in infinite notebooks of almost magical capability using a versatile, intuitively-designed stylus – these are essential for capturing the thoughts and ideas that reading inspires."
Tamblyn continued: "For avid nonfiction readers, eBooks have historically been an imperfect medium because they couldn't mark up the text and engage with the content as effectively as with a print book. With the introduction of Kobo Stylus, we have solved that and with Kobo Elipsa 2E and our upgraded Kobo Stylus 2, we have created a superior reading experience for nonfiction fans."
Enjoy a better and faster writing experience with the included Kobo Stylus 2. The ergonomically redesigned and rechargeable Kobo Stylus 2 allows you to easily wipe away mistakes with the eraser on the back and highlight those standout passages with the highlighter button. When not in use, conveniently store the stylus on Kobo Elipsa 2E magnetically. Make highlights, underline, write in the margins and take comfort that you will always see your annotations, even if you change the font size or page layout, because of Kobo's patented markup technology.
Protect your Kobo Elipsa 2E with the eco-friendly Kobo Elipsa 2E SleepCover. Made with 97 per cent recycled plastic, including 10 per cent ocean-bound plastic, the SleepCover is made from plastic that would otherwise become landfill and ocean waste. The Kobo Elipsa 2E SleepCover, available in Black, saves battery life by putting your eReader to sleep when you close it and, with its magnetic design, easily snaps on to your eReader and stores your Kobo Stylus 2.
Kobo Elipsa 2E, complete with Kobo Stylus 2, will retail for $499.99 CAD at www.kobo.com/ereaders and select retailers. Pre-orders will be available on April 5 and customers in Canada, who pre-order a Kobo Elipsa 2E on www.kobo.com from April 5-18 will receive a free $25 Kobo eGift card valid for eBooks and audiobooks. The device will be available in stores and online as of April 19 in Canada.