We all deserve quality sleep. Yet, according to Statistics Canada, 30% of the Canadian population complained that they had trouble sleeping in 2020: a 55% increase since 2002. The new line of Bazzzics natural products is made to address this common problem by giving you a calm, restorative night, with no dependency – and no prescription.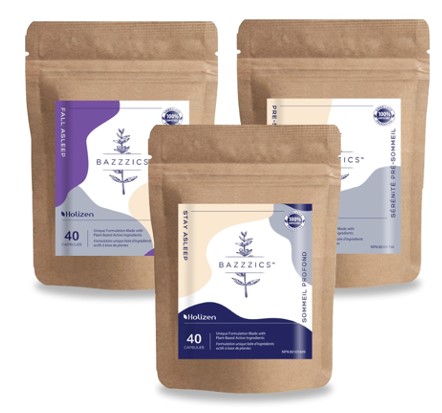 "The power of the Bazzzics sleep collection is that it connects with a wide range of individuals, who can combine its formulas to suit their needs. Ingredients are carefully chosen to provide optimal support to the nervous system and treat the stress component – a big difference from options that only treat the symptoms." – Evelyne Rondeau, Certified Naturopath (ND.A)
Bazzzics capsules, designed and developed in Canada by Holizen Laboratories, contain concentrated extracts of plants known for their soothing effect on the nervous system: lemon balm, skullcap, California poppy, and passionflower. Each product contains at least two of these four plants. Unlike many prescription sleeping pills, Bazzzics products are non-addictive. And when used in combination, they're even more effective.
Bazzzics Serenity Pre-Sleep, Fall Asleep, and Stay Asleep are available in recyclable, biodegradable packages of 40 capsules for a price of $24.99. Available in natural product stores and online at bazzzics.ca