September is right around the corner, and it's time to start getting back into the swing of things. Whether you're a student or a working adult, September stress is real: back to school, hectic schedules, and deadlines coming down the pike are just a few of the many factors that can leave you feeling overwhelmed. Below are five of our favourite wellness products that will keep your stress levels in check: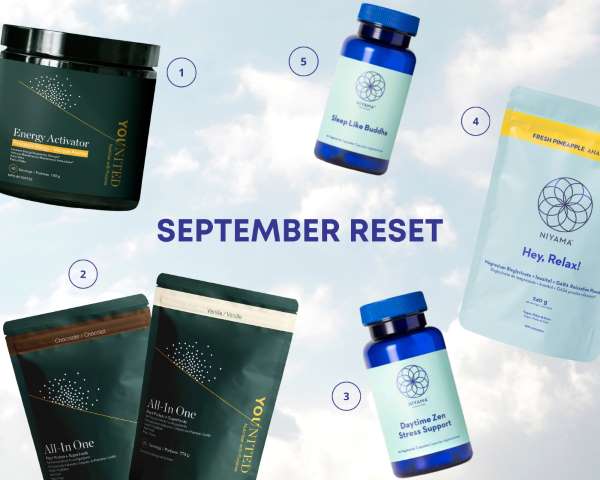 1. Clean Energy Booster
Get the energy you need to tackle your to-do list without the caffeine jitters. Formulated with resveratrol, CoQ10, mango extract and a phytonutrient blend, Younited's delicious, all-natural pineapple-mango Energy Activator drink boosts mitochondrial energy production, reduces inflammation and improves overall cell function to help you stay energized throughout the day.
Younited Wellness Energy Activator
2. Effortless All-in One Nutrition
A healthy and nutritious breakfast doesn't need to be complicated! Perfect for busy mornings, Younited's All-in One Plant Protein + Superfoods blend is a nutrient-rich powerhouse that features 53 premium organically grown ingredients and contains 20 grams of plant-based protein with less than 1 gram of sugar – 50% of your daily vitamin and mineral intake in one scoop! Mix it in your favourite smoothie blend or drink it alone for a nourishing on-the-go breakfast or snack.
Younited Wellness All-in One Plant Protein + Superfoods
3. Stress-busting Supplement
Work, bills, homework and deadlines can take a huge toll on your mental health, especially during this time of the year. Keep those anxious and overwhelming feelings at bay with Niyama's Daytime Zen Stress Support. Made with a stress-lowering blend of proven natural ingredients such as ashwagandha, rhodiola and L-theanine, one capsule a day can help you stay relaxed while keeping you attentive so you can focus on your daily activities without the added stress.
Niyama Wellness Daytime Zen Stress Support
4. Evening Unwinding Tonic
Fight off the Sunday Scaries and ease into your evening with a delicious relaxation powder. Niyama's Hey, Relax! Magnesium powder combines four proven ingredients in a harmonious blend to support neurotransmitter activity, increase alpha wave activity in the brain, and boost overall mood. Whether you enjoy it before bed, or after a stressful day at work, this all-natural drink will help you unwind and drift away into the ultimate zen-mode.
Niyama Wellness Hey, Relax Magnesium Powder
5. Nighttime Busy Brain Fighter
High levels of stress and anxiety can make it difficult to fall asleep, but the truth is, a good day starts with a good night's sleep, so it's important to catch some Z'z. Formulated specifically for stress-related sleep issues, this melatonin-free busy brain fighter supplement will help calm your mind and quiet those racing thoughts so you can get the rest you need to have a productive day.