At L'Occitane en Provence, nature is the highest source of inspiration in crafting quality products. This Fall, the French brand introduces two new skincare collections – The Immortelle Divine Relaunch and the Aqua Réotier Eye Gel.

IMMORTELLE, THE GENIUS FLOWER THAT
MAKES THE IMPOSSIBLE, POSSIBLE
While some may choose to use retinol, L'Occitane has chosen to spotlight the unique Immortelle flower from Corsica, to tackle signs of aging with a new reformulation that contains 30% higher concentration of Immortelle.
The new and improved formula helps target and fight five main visible signs of aging including: visible efficacy on wrinkles, firmness, skin volume, evenness and vibrancy.
With more than 20 years of research on the Immortelle flower, it is a continuous learning process to discover all the benefits this amazing plant has to offer, and it continues to impress the L'Occitane development team.
With the most concentrated 5 powerful actives from one superpower flower, these ingredients work in synergy for a youthful & dynamic skin superpowered by their organic Immortelle, the flower that never fades.
L'Occitane proudly announces new breakthrough discoveries:
Immortelle essential oil protects the skin against the effects of blue light over-exposure
Immortelle essential oil can be used as a gentler alternative to retinol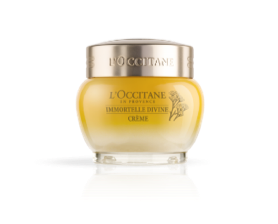 IMMORTELLE DIVINE CREAM ($120)
This formula is enriched with natural origin ingredients. It contains Immortelle Super Extract (a naturally derived retinol alternative) that helps to enhance skin's volume and structure. It is gentle on the skin and just as effective as retinol.
With its cashmere-like texture, the iconic Immortelle Divine Cream draws upon the power of 600 immortelle flowers, also known as the "everlasting flower" as it never wilts or fades, even after picking.
IMMORTELLE DIVINE SERUM ($130) Contains Immortelle Super Extract, a naturally derived retinol alternative, making skin look more youthful and natural. It is a concentrated serum with fast penetrating emulsion for younger-looking skin.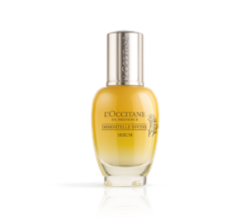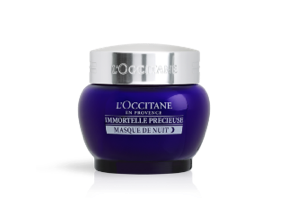 IMMORTELLE Precious Overnight Mask ($85)
In addition to the Divine Relaunch, L'OCCITANE introduces a new member to the Precious Family. The Immortelle Precious Overnight Mask is enriched with Immortelle Super Aqueous Extract, known to have antioxidant properties; it helps skin's resistance to effects of external aggressorsand blue light over-exposure.
It also contains Dynamic Hyaluronic Acid, a unique form of low-molecular-weight hyaluronic acid bonded to an essential mineral with benefits on skin renewal. This mask can be used both day and night to target smoothness, moisture and plumpness.
The brand has been celebrating the wonders of Provence since the brand's inception, including the Réotier Spring located in the mountains of Hautes-Alpes region. The Réotier Spring has been recognized as one of the Natura 2000 nature protection areas due to its unique biodiversity. L'OCCITANE is the first company to tap into this enriching water source, and with the brand's commitment to preservation and responsible sourcing, they strive to retain its majestic qualities for future generations.
AQUA RÉOTIER REFRESHING EYE GEL
Formulated with calcium-rich water of Réotier, hyaluronic acid and caffeine, the Refreshing Eye Gel helps:
Fight dehydration lines
Activate microcirculation, thanks to the massaging action of the roll-on applicator
Reduce the appearance of dark circles and bags under the eyes
For a more cooling effect, put the tube in the fridge for 10 minutes before use. This will help the eye area look fresh and more awake.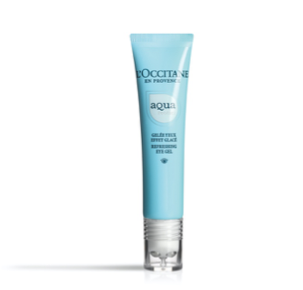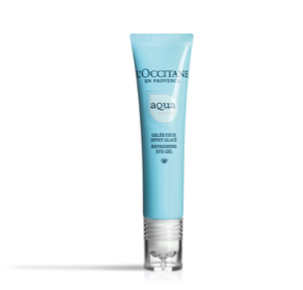 "Often in laboratories one looks for sophistication when actually it is in the wild, in nature that you will find a plant with all the qualities you seek." Olivier Baussan, Founder of L'Occitane en Provence
L'OCCITANE Immortelle Divine Relaunch, Precious Overnight Mask and Aqua Réotier Eye Get will be available September 1, 2020 at L'OCCITANE boutiques nationwide and at ca.loccitane.com