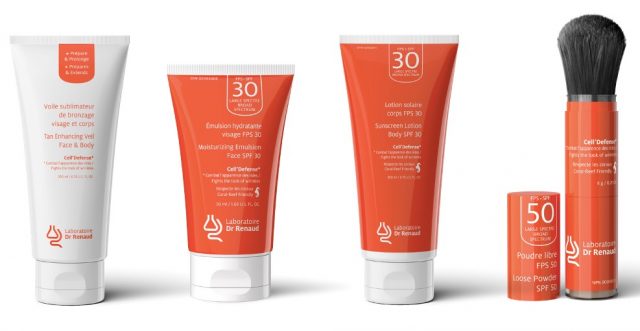 The new triple UVA+UVB+IR protection line from Laboratoire Dr Renaud gives you all the sun's benefits, all year around (summer like winter).
These four new products are designed for use before, during, and after sun exposure.
All the products are developed and made in Canada.
Multi-action suncare, for use two weeks before sun exposure to prepare your skin, and after exposure to repair your skin and make your tan last longer. It contains hyaluronic acid, panthenol, aloe, and fucogel for a cooling, soothing and moisturizing effect you can feel as soon as you apply it.
Broad Spectrum Moisturizing Emulsion Face SPF 30
A real facial treatment with the jasmine flower extract ceramide, an antioxydant and immune system protector, blended with powerful protective filters for the sin. An essential, winter or summer!
Broad Spectrum Sunscreen Lotion Body SPF 30
Like the Moisturizing Emulsion Face product, it contains Tyr-Excel TM, a blend of amino acids (tyrosine) which activates tanning, and loofah oil, which activates Type-1 ceramide synthesis, in addition to powerful filters that let your skin tan without burning. It comes in a sand- and sweat -resistant formula that's prefect for sports and for those gorgeous summer days ahead.
Broad Spectrum Loose Powder SPF 50
The ideal solution for top-level protection in the city and every day. Imagine : SPF 50 mineral protection and a subtle tanning effect with anti-ageing action, in an easily-tolerated formula that works for men and women alike.