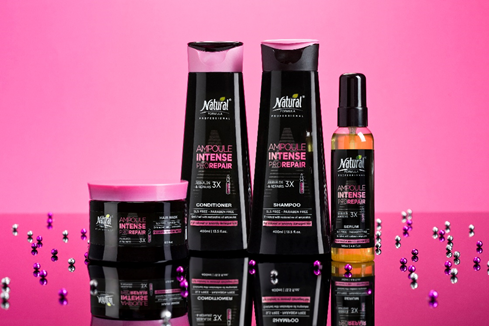 Natural Formula, Israel's leading haircare brand is proud to present a breakthrough in hair care – Ampoule Intense. The Ampoule Intense line is a series of products created with innovative technology that is designed to restore colored, dry and damaged hair making it shiny and silky. It contains micro-ampoules that activate its high-quality natural oils by opening and releasing its ingredients. The formula promises to seal the restorative nutrients and retain their effectiveness helping to rebuild and repair damaged hair three times more effectively than other haircare products. The Ampoule Intense line can be purchased in the U.S. exclusively through Amazon.
"For the most part, ampoule treatments are usually found in salons and can be extremely costly," states Shirly Gal-Levy, Marketing Manager, Natural Formula. "With the Ampoule Intense line, we are offering customers an affordable alternative to enjoy an ampoule treatment with every wash, in the comfort of their own home. This convenience allows customers to enjoy the most benefits from the ampule treatment by using it on a more regular basis."
The products within the Ampoule Intense line are rich in Ampoule oils – a blend of richly textured natural oils which include hippophae oil, borage oil, and tee tree oil that nourish each strand and promote immediate repair and restoration. The line is also SLS free and paraben fee, safe for brittle hair.
The Ampoule Intense line includes shampoo and conditioner (400mL,) a mask (350mL,) and a serum (145 mL,). In four easy steps you can repair your hair back to health with this new line of products: lather and rinse shampoo into wet hair, once washed continue treatment with conditioner, twice a week replace conditioner with the intense hair mask and complete the treatment by applying the serum on damp or dry hair for the perfect radiant shine.
Natural Formula also provides customers with other professional products such as the Keratin Intense Line, Styling Cream Collection, and Dry Shampoo Collection (launching soon.) To purchase Natural Formula's new Ampoule Intense line and the rest of the collections, please visit the Amazon store at https://amzn.to/2vdlCPu