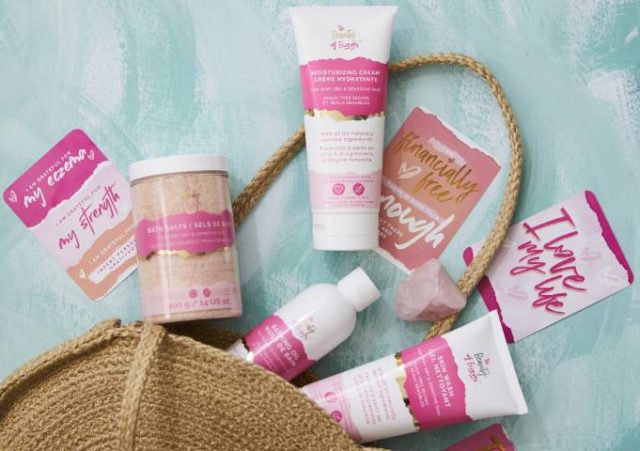 Experience at-home pampering with The Beauty of Eczema's amazing line of sensitive skincare products. These products are natural, clean, vegan, dermatologically tested, formulated for all types of sensitive skin, and safe for babies!
Available online and in Shoppers Drug Marts across the country.
Bathing Oil (200ml | $37.99 CAD): 99.9% naturally derived skin-friendly ingredients moisturize and protect dry skin, this includes Castor Oil, Omega 3 & 6, Oat Lipids, and Rhamnosoft, formulated to keep skin moisturized and protected. Bathe like Cleopatra! Just pour a small amount into your bath and watch it turn milky white! This can also be used as a super moisturizing body wash!
Bath Salts (400g | $25.99 CAD): This special blend of three bath salts is for dry and sensitive skin geared to boost hydration. It includes Dead Sea Salt, Epsom Salts, and Himalayan Salts, plus Oat Lipids and Omega 3 & 6 and is packed with 99.9% naturally derived ingredients. Apply a generous handful to a warm bath and relax from the stresses of the day.
Skin Wash ($23.99 CAD/200ml): Visibly revitalize your body with this creamy, highly moisturizing Skin Wash, carefully formulated with 98.3% naturally derived, skin-friendly ingredients. A daily ritual of self-care. With Soothing Sweet Almond and Oat Kernel Oils for moisturization and *Rhamnosoft.
Moisturizing Cream ($31.99 CAD/200ml): Perfect for the face and body! Give your skin a daily dose of gratitude with this super luxurious Moisturizing Cream, carefully formulated to protect the skin's moisture barrier and boost hydration. Skin feels comfortable and cared for. With 97.9% naturally derived ingredients including, Natural Butters, Omega 3 & 6 and Oat Lipids for moisturizing effects and *Bioecolia®.