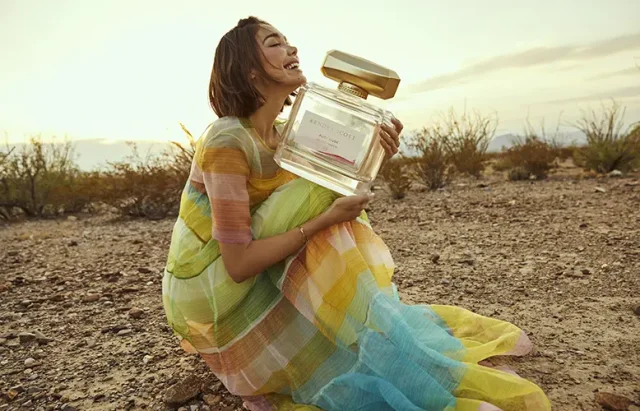 Kendra Scott, the celebrated lifestyle brand, announces the launch of the brand's new highly anticipated Fragrance Collection, including three radiant scents—Ruby Musk, Amber Aura, and Jade Blossom.
The addition of the fragrance portfolio marks a natural next step for the philanthropic lifestyle brand's expanded offerings, like the recent successful launch of Yellow Rose by Kendra Scott and the former expansion into menswear with Scott Bros. by Kendra Scott. Kendra Scott is proving that fragrance is the ultimate accessory, with a collection designed to celebrate life's moments, big and small, that invites the customer to wear their new signature scent joyfully.
Comprised of three distinct fragrances that draw inspiration from wanderlust, as well as the personal experiences and travels of Founder, Chief Creative Officer, and Executive Chairwoman Kendra Scott, the eponymous Fragrance Collection empowers the customer to make their presence known with a scent all their own.
Experience the romance with Ruby Musk, a nostalgic, sophisticated, and alluring aroma that opens with deep notes of bergamot, pink pepper, and rose. Base notes of amber, patchouli, and coconut musk complete the experience.
Explore the luminous with Amber Aura, a powerful and totally captivating medley of rich cedarwood notes, warm florals, and scintillating musk. Top notes of amber and cedarwood with base notes of ambrette, calming vanilla, and praline create a grounding, captivating scent.
Celebrate the fresh and feminine with Jade Blossom, a bright and airy scent, which opens with stimulating notes of jasmine and green flower. The dynamic blend finds balance with an undercurrent of tuberose, and meditative, silky base notes of sandalwood and vetiver.
The intentionally crafted bottles translate the brand's emblematic Danielle and Davie silhouettes into fragrance vessels to bring Kendra Scott's design staples into the personal fragrance space. The artfully designed full-size bottle featured the Danielle shape, and a travel-sized version features the recognizable, geometric Davie shape.
"Fragrance has always played a special role in my life – it's purely transformative. Memorable scents have the power to define a mood, bring back a fond memory, and evoke emotion," remarks Kendra Scott. "I always had a vision to add fragrance to our collection. Like jewelry, fragrance is personal, distinct, and a unique accessory to the wearer. In developing this collection of scents, we aim to bring more joy to the Kendra Scott customer, and make a lasting impression that will accompany her through every chapter of her life."