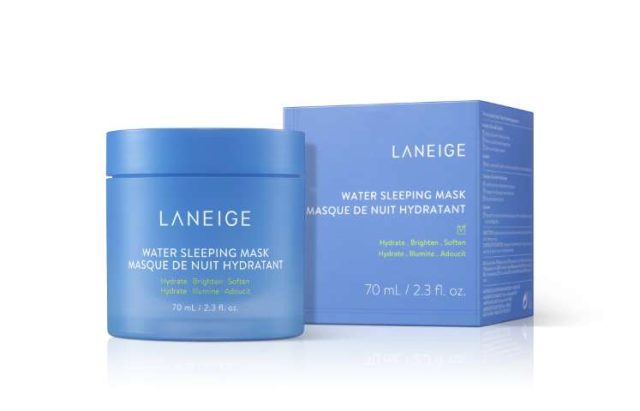 Your nighttime bestie just got even more benefits! Introducing our new and improved LANEIGE Water Sleeping Mask! This overnight mask is hypoallergenic and formulated with two new ingredients for even more revolutionary results. Powerful Probiotic Derived Complex* strengthens the skin's moisture barrier while boosting its brightness & clarity. Squalane provides intense moisture without feeling heavy. Let your head hit the pillow and wake up to refreshed, radiant skin. *Lactobacillus Ferment Lysate + Trehalose.
FEATURES & BENEFITS
Probiotic-derived complex *: A powerful complex with lactobacillus ferment lysate derived from 23.8 billion green tea probiotics and trehalose to help add a hydrated glow, while creating an optimal environment for the skin. Utilizing a patented method, green tea lactobacillus ferment lysate helps reveal smoother looking skin by reducing the amount of dead skin cells.
Hydrating Squalane:, Skin-friendly hydrating ingredient that mimics a component of skin's natural lipids, extracted from sugar cane.
Gentle, Hypoallergenic formula; Dermatologist tested; 7-free formula (Animal ingredient, mineral oil, polyacrylamide, imidazolidinyl urea, triethanolamine, synthetic pigments, PEG surfactant).
Packaging (Bottle): Less plastic than previous product → Water Footprint certification, Outer packaging: FSC certificated paper.
HOW TO USE
After face cream, apply evenly across face.
After product is absorbed completely, leave treatment overnight and rinse off in the morning.
Use once or twice a week.
Will be available at Sephora stores, Sephora.com, SiJCP, Sephora at Kohl's, LANEIGE.com, and ARITAUM