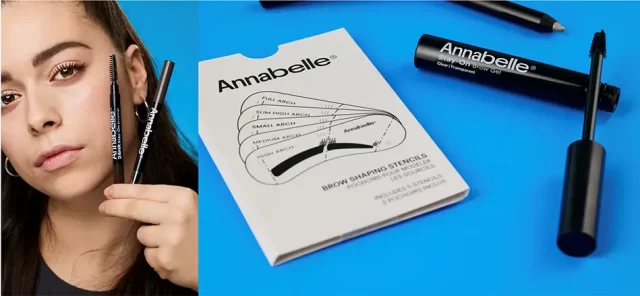 Arguably the most important step in our makeup routines, filling in our brows. Whether we're looking to do a full glam look or are rushing out the door, our brows really are what frame our faces. The key to getting thick and full eyebrows? The perfect pencil. Annabelle's 24HR Stay-On Browliner, available in 5 different shades, is designed to easily outline and fill your brows with colours that will last all day. Annabelle's limited edition Brow Shaping Stencils and Stay-On Brow Gel are just what you need to stay on top of your brow game!
The 24hr Stay-On Browliner – ($10.95) features a triangular tip for more defined or thicker lines. Each side of its tip offers a different size that adapts to all brow shapes, making it easy to use. It's spoolie-end has a precise width and firmness to flawlessly blend colour for a natural-looking finish. Available for purchase on Amazon.ca and at your local drugstore.
The Brow Shaping Stencils – ($7.95) are easy to use, the flexible plastic fits with the brow bone. Try the 5 stencils by aligning the lines on your eyes and choose the arch that best fits your natural brow hair. Then, fill them with 24hr Stay-On Browliner by letting the stencil guide you to achieve perfectly filled eyebrows.
The Stay-On Brow Gel – ($10.95) sets your brows by brushing them with the brow gel directly on your brows for a natural finish or after reshaping them for an intense result.
*The Brow Shaping Stencils and Stay-On Brow Gel are both limited edition and available for purchase exclusively at your local drugstore.
These products are vegan, paraben-free, fragrance-free, cruelty-free, waterproof, hypoallergenic and transfer proof. As well as, tested under dermatological and ophthalmological control.