Just in time for the holiday season, St~Germain® Elderflower Liqueur has partnered with luxury nail brand MiniLuxe to equip festive revelers with everything they'll need to enjoy sparkling celebrations from now through New Year's. The two brands have collaborated on this year's chicest seasonal offering: The St~Germain x MiniLuxe Royale Gift Set. Launching on November 9th, each set includes a 375ml bottle of St~Germain and a custom pairing of MiniLuxe's non-toxic, cruelty-free Pure Polish inspired by the St~Germain's signature holiday serve, The St~Germain Royale. Just as this Champagne cocktail is elevated by a dash of St~Germain, the striking shades in the Royale Polish Set are the perfect finishing touch to your holiday style and will inspire endless design possibilities.
"We're thrilled to be teaming up with a premium nail brand like MiniLuxe to bring some sparkle to the holidays this year," said St~Germain Brand Director Stacy Saltiel. "This season is all about festive celebrations, from the décor to the cocktails to the perfect party outfit. A good manicure is just like a dash of St~Germain—a small, but essential detail needed to truly make your style, or your cocktails, stand out. Our Royale Polish Set is a flourish of inspiration that will make each of your soirées feel extra special."
The shades in each Royale Gift Set are inspired by the St~Germain Royale, a sparkling cocktail made with Champagne, blackberries, and just a dash of St~Germain. The glowing gold "St~Germain" color is emblematic of the iconic elderflower liqueur and shimmering Champagne, while the bold "Soirée Royale" represents the deep navy berries that garnish the cocktail.
In addition to purchasing the gift set, those that live near MiniLuxe locations in Los Angeles, Dallas, and Tampa can book an appointment on Fridays and Saturdays during "St~Germain Salon Hours" to receive a complimentary St~Germain Royale cocktail with their service. New Yorkers can also head to MiniLuxe's sister brand Paintbox to receive a complimentary Royale cocktail and custom nail art from the limited-edition St~Germain x Paintbox Lookbook, featuring designs by Paintbox Creative Director Mabelyn Alva. The hand-painted patterns are inspired by the St~Germain Royale, the elderflowers used in each bottle of St~Germain, and more.
"Manicures have evolved from being a simple beauty routine to a true art form," said MiniLuxe CEO Tony Tjan. "Our MiniLuxe and Paintbox brands pride themselves on transcending the traditional salon experience. "We're proud to be partnering with a renowned liqueur like St~Germain, which brings the same sense of artistry and originality to their cocktails that our nail artists bring to their work every day. The elderflower-inspired designs we've created together are as beautiful as the St~Germain Royale. We couldn't think of a better way to ring in the holiday season and are excited to raise a Royale toast to everyone."
The St~Germain x MiniLuxe Royale Gift Set will be available for purchase on the St~Germain website, along with MiniLuxe.com and select MiniLuxe salons beginning November 9th. St~Germain Salon Hours and the limited-edition Paintbox x St~Germain lookbook will be available by appointment from November 10th through December 29th. For a full list of participating MiniLuxe salons featuring the custom polish pairings and the St~Germain Salon Hours, please see below.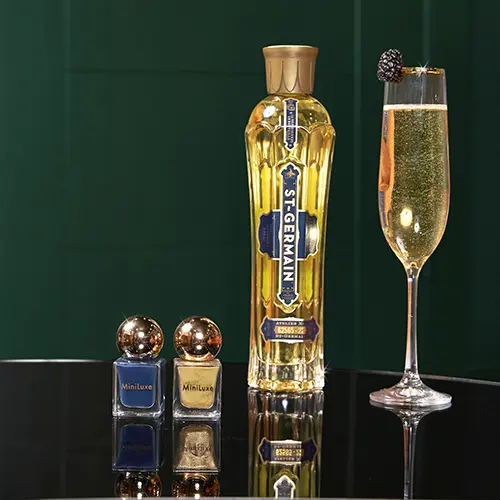 ST~GERMAIN ROYALE RECIPE
¾ oz St~Germain Elderflower Liqueur
5-6 oz champagne
Blackberry to garnish
Method: Pour St~Germain into a chilled champagne flute. Top with champagne and give the drink a quick stir. Garnish with a blackberry by placing on the rim of the glass.