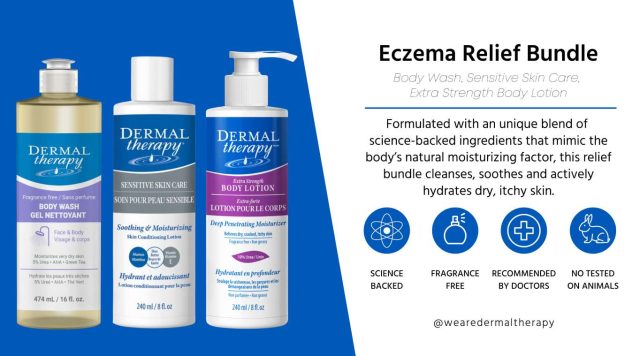 Summer is here, and unfortunately, so are eczema and sensitive skin flare-ups. While everyone's eczema is different, increased heat, humidity, sweat and warm-weather activities like swimming and sun tanning can easily trigger an eczema rash and worsen the symptoms. Keep reading to learn how Dermal Therapy can help! 
Body Wash
Formulated with a blend of urea to restore hydration, alpha hydroxy acids to exfoliate skin and green tea to soothe irritations, this eczema-friendly face and body wash gently removes dirt, oils and dead skin cells without disrupting the skin's natural barrier and leaving the skin feeling hydrated and refreshed.
Price: $18 CAD
Availability: https://www.dermaltherapy.ca/products/body-wash
Sensitive Skin Care Lotion
Soothe dry, itchy, red, and irritated eczema flare-ups in one go! Made with a skin-loving formulation of allantoin, shea butter and vitamin E, this fragrance-free lotion actively hydrates and conditions skin to keep it cool, calm and comfortable.
Price: $16 CAD
Availability: https://www.dermaltherapy.ca/products/sensitive-skin-care-8-fl-oz-240-ml
Extra Strength Body Lotion
Keep eczema at bay by moisturizing your skin with the right products. Dermal Therapy's nourishing Body Lotion delivers deep hydration into the layers of the skin with 10% urea for long-lasting moisture. It gently exfoliates the skin with 5% alpha hydroxy acids (AHA) to stimulate cell turnover for healthy-looking skin that is soft to the touch.
Price: $15 CAD
Availability: https://www.dermaltherapy.ca/products/extra-strength-body-lotion-8-fl-oz-240-ml
About Dermal Therapy
Dermal Therapy makes affordable, therapeutic and effective skin care products tailored to specific parts of the body to help manage different skin conditions. Dermal Therapy products are formulated with varying concentrations of urea, AHAs (alpha-hydroxy acids) and other hydrating ingredients that work together to gently remove dead skin cells while actively moisturizing the skin for long-term results. Their products are:
Recommended by doctors and specialists
Science-backed
Clinically proven
Urea-based
Fragrance-free
Safe & non-toxic