As North America's ultimate winter wonderland, Whistler attracts thousands of skiers and snowboarders each year, promising pristine powder and epic runs. Christmas and New Year in Whistler is one of the most exciting times to visit, just one month after the launch of the long ski season. Expect the village to be bustling with cheerful locals and shoppers, an abundance of snow and endless strings of spectacular Christmas lights and decorations.
In the unlikely event you find yourself short of things to do in Whistler, we've pulled together seven unmissable experiences perfect for the holidays.
1 – Go on a magical night walk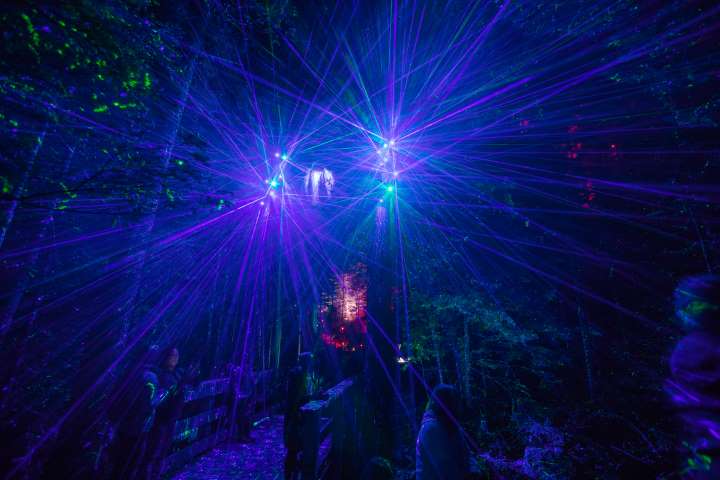 Christmas is the most magical time of year so it makes sense to head for the Vallea Lumina, one of the most magical experiences around. Montreal-based Moment Factory has teamed up with The Adventure Group to create one of the ultimate family-friendly experiences of 2019. Their winter-inspired twilight journey follows in the footsteps of two bold travellers who uncovered the secret wonders of the woods, according to local legend. Expect stunning illuminations and a feast for the senses on this epic tour through the old-growth forest.
2 – Take a sleigh ride in the snow
What could be more festive than cozying up with a loved one and taking in the snow-frosted backcountry behind a trusty steed? Sleigh rides in Whistler are one of the most popular holiday activities so it's best to book early. The rides start on December 15th and run each day from 5 pm – 8 pm. The tour stops at a cabin along the way so you can enjoy a delicious cup of hot chocolate before continuing with your horse-drawn adventure.
3 – Fly like Santa's reindeer
A bird's eye view of the forests and breathtaking mountain vista isn't only reserved for the birds, Santa and his reindeer. You can ride the Whistler zipline throughout the festive season, hurtling down Cougar Mountain and out over the valley – even riding side by side a friend or loved one. A ride on the zipline makes a great gift too.
4 – Forget charades, throw axes instead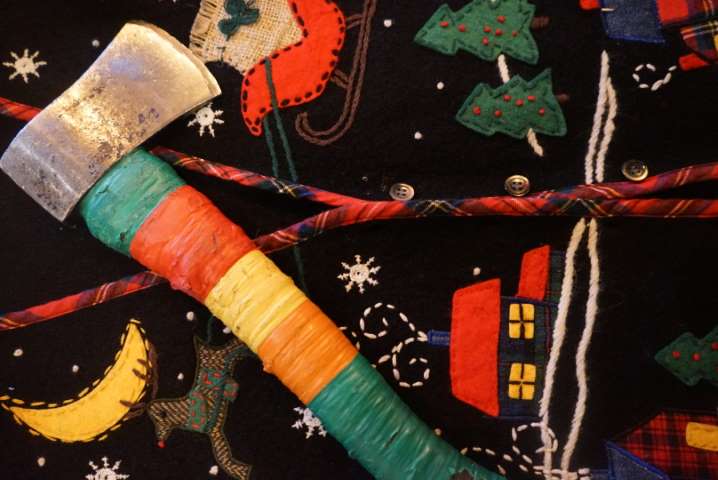 Axe throwing and Canada go together like turkey and cranberry sauce so you'll perhaps not be surprised to learn that it's a popular pastime during the holidays. Forged Axe Throwing offers one of the best indoor activities in Whistler and plays host to many family and friend groups over Christmas. The team will provide tips to perfect those throws and also keep track of the score. It's way more fun than a game of charades.
5 – Not a fan of skiing? Go snowmobiling
Perhaps skiing isn't your thing or maybe you're seeking another thrill in the snow? Whatever the reason, snowmobile tours are a brilliant way to see the Callaghan Valley or Cougar Mountain landscape. Blackcomb Snowmobiles offer different tours catered to all levels so don't worry if you've never ridden a snowmobile before. If you'd rather let someone else take the handlebars, then ride as a passenger and enjoy the thrill. Snowmobiling runs throughout the season starting on December 1st.
6 – Watch the Viessman Luge World Cup and BMW Sprint World Cup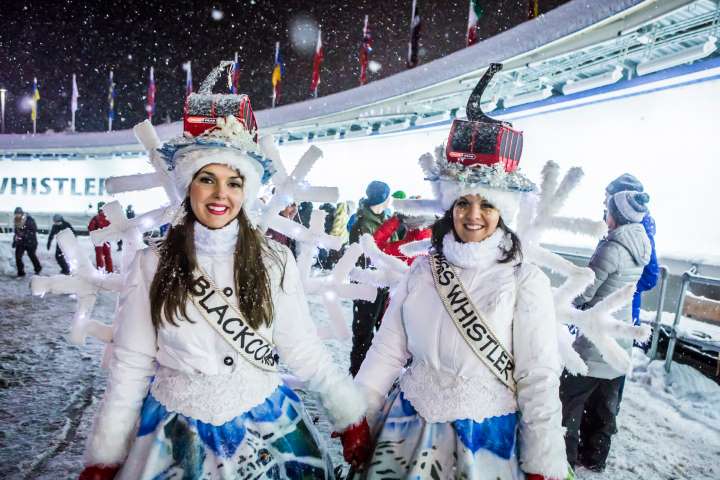 Taking place on December 13th and 14th, the Luge World Cup heads for the Whistler Sliding Center, bringing back happy memories of the 2010 Winter Olympic Games. Cheer on some of the world's best luge athletes on the world's fastest track. If the competition inspires you to give sliding sports a try, book one of the Whistler Bobsleigh or Skeleton experiences to hit speeds of over 125km/hour.
7 – Check out the festive events calendar
While there's never a dull moment in Whistler, Christmas is a great time to enjoy the many events and activities on offer. Sing your heart out at the annual carol service. Now in its 35th year, the event sees the Children's Choir and Whistler Singers perform a medley of traditional choral music and readings. The event starts at 6.30 pm on Christmas Eve.
New Year's Eve starts early with plenty of family-friendly activities taking place from 12noon on both the Whistler Olympic Plaza and Skier's Plaza. The village puts on an 8 pm fireworks display for those with young children ahead of the grand finale fireworks and special Fire & Ice Show from 11.30 pm.
Starting December 9th, family apres lights up the Whistler Olympic Plaza on Mondays and Wednesdays from 3 pm-6 pm. Rent a pair of skates and take to the rink before enjoying warm beverages and delicious food all served nearby.