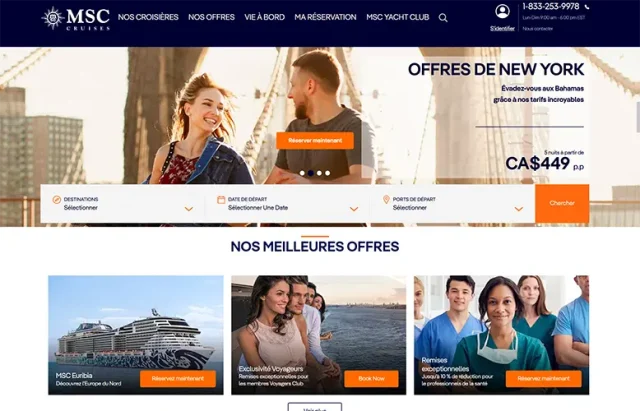 MSC Cruises is pleased to announce that the company's Canadian website, www.mscruises.ca, is now available in both English and French. The French website is designed to make booking a cruise on board one of MSC Cruises ships more convenient for French-speaking Canadians across the country.
Ian Patterson, Country Manager, MSC Cruises Canada, said, "As the only major cruise line with an office in Canada, making www.msccruises.ca/fr bilingual is part of our commitment to exceed guest expectations. As we continue to solidify our presence in the French speaking market, today's announcement brings us one step closer to achieving that goal."
The French website will enable guests to seamlessly book their next cruise with ship features, amenities, pricing, itineraries and more now available in French at www.msccruises.ca/fr. To better serve both English and French speaking guests, MSC Cruises Canada operates a bilingual call centre, groups and sales support for guests and travel agents.