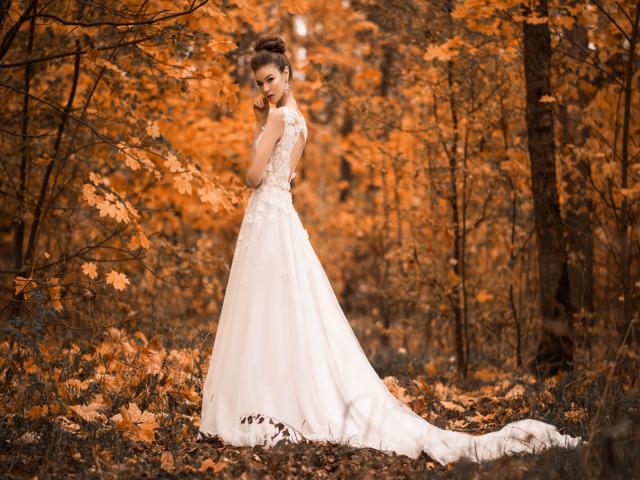 Fall is perhaps the most stunning season for an outdoor wedding ceremony, with the leaves changing to yellows, oranges, and reds dropping to the ground. Fall is the best weather transition season since it is neither as hot nor as humid as summer, nor as dry nor as frigid as winter. It may be challenging to maintain a pleasant demeanor while being seasonally appropriate throughout the fall wedding season.
To assist you in planning the ideal fall wedding, we've compiled a list of the hottest bridal gown and bouquet trends.
1. Fall Inspired Centerpieces
You do not want to become so preoccupied with bridal party flowers that you overlook the reception centerpieces! This time of year, centerpieces abound, from autumn flower arrangements to beautiful pumpkin and gourd displays. Rather than utilizing a vase for your centerpieces, experiment using unorthodox containers. Mason jars, bottles, and even paint cans are all examples of rustic wedding decor components. Choose centerpieces with a touch of fall colors from a reliable florist like Bouqs wedding centerpieces to ensure that it matches your wedding theme.
2. Fall Flower Bouquets
Choosing flowers in season on your wedding date is an excellent method to ensure that your wedding flowers are as fresh as possible and suit your wedding decor. While out-of-season flowers can be easily delivered to your wedding reception, choosing flowers that grow during the autumn season is the best option for a fall wedding theme. Here are some of the flowers that are in bloom during autumn:
This stunning flower is ideal for a fall wedding with a classic theme or dress code. Calla lilies come in various colors, including white, dark purple, and orange, and are therefore an ideal choice for an autumn event.
Due to their resemblance in appearance, these autumn wedding flowers are frequently mistaken for dahlias. They have petals that are elongated and thick. Chrysanthemums come in various colors, ranging from light pink and purple to yellow, orange, and dark red, due to their natural fall bloom.
Autumn brings a variety of uncommon flowers that you can combine to create a lovely bouquet. A bouquet with Queen Protea, Smoke bush, and eucalyptus creates a charming and joyful atmosphere without being overly floral.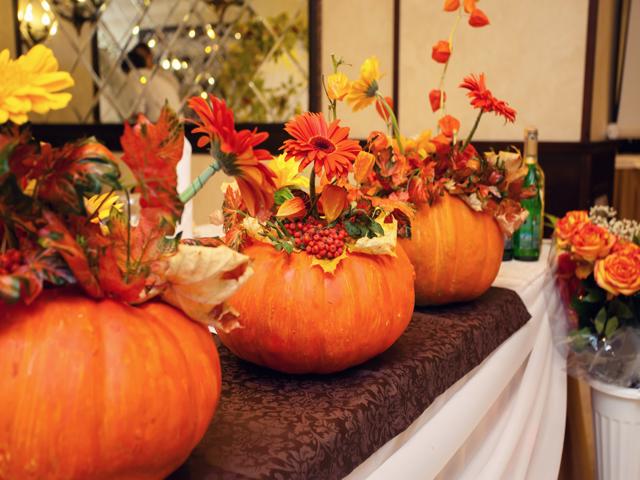 3. Grass And Foliage Arrangements
As the trees in your neighborhood begin to reveal their fall foliage, use leafy branches and dry grasses into your wedding-day arrangements as a seasonal hint. Pampas grass is ideal for bohemian weddings, while seeded eucalyptus or Ruscus creates stunning floral arrangements. Snowberry and hypericum berries, as well as grasses, make excellent fillers. Using dried flowers is also one of the many eco-friendly wedding ideas out there while still providing your venue the elegance it needs.
4. Floral Wedding Gowns
Designers provide a variety of flower appliqué alternatives for bridal gowns. Also, you can have flower illustrations in a range of different colors and materials. They are visible on both the dress's core fabric and its upper layers. Designers are swooning over dresses with a floral pattern in milky, light pink, and cream tones. The most prevalent trends are 3D applications. Large floral designs are frequently present on the gown's hem, straps, and train.
5. Transforming Wedding Pieces
Designers are more eager than ever to provide brides with choices. Transforming dresses were popular this season, giving something for today's micro-wedding that can be worn again and looked brand new for a second wedding the following year. Mini dresses and rompers now have detachable overskirts, creating a two-in-one look that makes this investment piece feel more manageable.
6. Classic Ball Gowns
Using a ball gown in a wedding has long been a classic, continues to reign supreme in Fall 2021 wedding fashions. If you've ever dreamed to be a princess on your wedding day, this is the trend for you. Because the ball gown is so adaptable and timeless, you can wear them virtually in any wedding theme or setting. The ball gown silhouette is graceful and universally attractive on all body types.
7. Crêpe Fashion
Crêpe dresses are a trend for modern brides. Clean, starkly plain crêpe fashions dominated this year's runways. Crêpe is a structured yet lightweight silk, wool, or synthetic fabric that is lightly crinkled, crimped, bumpy, or grainy. Pair a crêpe skirt or pants with a lavishly embroidered bodice or sleeves for a more ornate effect.
8. Off-Shoulder Dresses
Over the previous several seasons, off-the-shoulder wedding gowns have transitioned from trend to classic. You can combine them with balloon sleeves to produce a magnificent and attractive new interpretation of a classic silhouette, whether in the form of a long poet sleeve or a pleated nearly quarter-length sleeve.
Takeaway
Autumn weddings are particularly gorgeous; the weather is ideal, and the changing foliage contributes to the romantic and lovely mood. You can have a fantastic fall wedding by following the fashion and floral trends mentioned above without sacrificing your dream wedding setup for autumn.