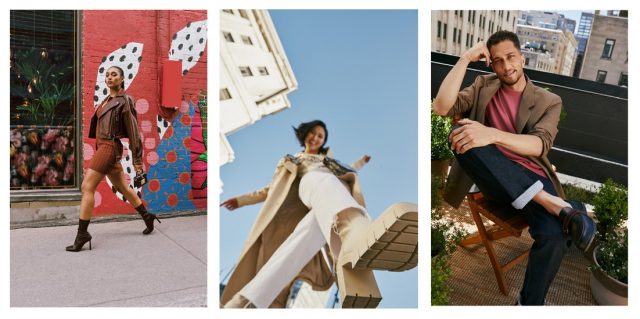 ALDO, international leader in fashion footwear and accessories, is set to debut the second iteration of its Step Into Love fall 2021 campaign, originally made popular in 2020 with their hugely successful TikTok dance contest that reached over 5.4B views. This year the brand is tapping into the central theme of bold self-confidence through the theme of 'Stepping Into Next', which will encourage its global #ALDOCrew to show what steps they're taking next to become the best versions of themselves.
The campaign video, which was conceptualized by Ogilvy Creative Agency, follows a diverse group of individuals as they pass through five different globally ubiquitous settings, with each scenario spotlighting one of the collection themes; from edgy, to sexy, to casual street style and beyond, highlighting the brand's collection breadth while celebrating self-expression no matter where the next chapter leads.
New this season, both the campaign video and photos were shot locally in Montreal, Quebec, Canada, highlighting the brand's hometown and Canadian creatives. Set to Sofi Tukker's hit, "Purple Hat", and led by Adrian Villagomez (Director), Derek Branscombe (Director of Photography), Kelly Jacob (Photographer) and Cary Tauben (Stylist), the campaign stars a group of nine local models who were shot mainly from the waist down to focus on feet moving forward through the campaign's different chapters, all convening at the end of the video to celebrate together in a vivacious moment on a beautiful downtown rooftop.
"This has been an incredibly difficult year for all of us around the world, so for this Step Into Love campaign, we really wanted to focus on the optimism of the future, and the concept that a single individual is multifaceted and capable of embracing every version of themselves. The campaign celebrates individual and collective next steps since shoes don't just tell a story about what you're doing in a given moment, they also tell a story about where you've been, where you're going and who you may become along the way," said Daianara Grullon Amalfitano, Senior Vice President ALDO Brand. "We've really made a point to listen to our customers and learn where they're at in life, so we want to celebrate that and encourage our #ALDOCrew to show us all the ways in which they've made transitions, even if just in small ways."
With the goal of once again engaging and mobilizing their community, ALDO will be launching a massive global social media contest on Instagram, where the brand will invite its audience to highlight a recent "next step" – whether it's achieving a goal, checking an item off their bucket list or simply taking a small step to becoming the best version of themselves. Tapping into the social media trend of transitions, also seen creatively intertwined in the campaign itself, consumers from around the world will be encouraged to take inspiration from the Step Into Love campaign, and submit their entry on Instagram via Reels or Stories to showcase how they are "Stepping Into Next" using the @aldo_shoes original sound (Sofi Tukker – Purple Hat). All entries will need to tag @Aldo_Shoes and include campaign hashtags #StepintoLove and #StepIntoNext for a chance to win $5000 towards their next chapter.
Follow @aldo_shoes, #StepIntoLove and #AldoCrew on social media for information and updates.