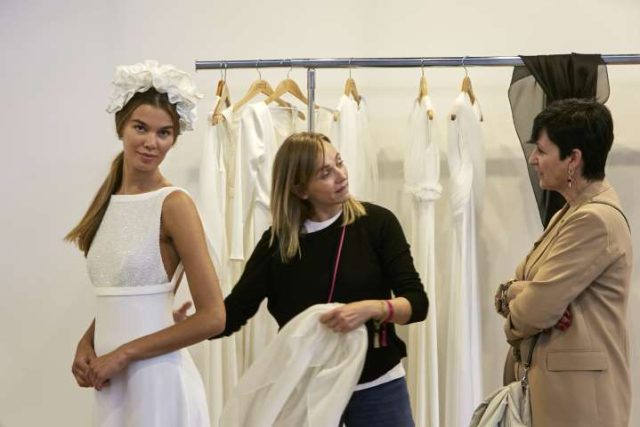 Barcelona is steadily declaring itself the world's bridal fashion capital. A leadership that will be proven once again from 19 to 23 April during the celebration of Barcelona Bridal Fashion Week (BBFW), a benchmark event for the sector's major international brands, emerging talent and haute couture firms presenting their creations for the upcoming 2024 season. The catwalk, with the fashion shows of 34 designers and ELIE SAAB as protagonist, will advance the trends while the trade fair, with more than 350 exhibiting brands, will boost business and commercial contacts with buyers and distributors from 90 countries.
BBFW will start with the catwalk, where 34 designers from 15 countries will be showing their new collections for 4 days. The new collections of Spanish bridal leaders such as Jesús Peiró; Rosa Clarà; Atelier Pronovias; Nicole Milano; Isabel Sanchis; Sophie et Voilà; Yolancris; Marco & María; Ramón Sanjurjo will be on show. On an international level, Cymbeline (France); Agnieszka Swiatly (Poland); Marylise & Rembo Styling and Carta Branca (Belgium); The Atelier Couture by Prof. Jimmy Choo (Malaysia); Julia Kontogruni (Bulgaria); Demetrios and Carlo Pignatelli (Italy); Modeca (Netherlands), Joli Poli (Vietnam); Wona Concept & Eva Lendel (Ukraine); Madeline (USA), or Ines di Santo (Canada).
Furthermore, ELIE SAAB, the Lebanese haute couture brand favoured by stars on the red carpet and by European and Middle Eastern royals, will bring the world's first show of its bridal collection exclusively to Barcelona on 19 April at a special event.
And from catwalk to business. In addition to the catwalk, the trade fair will bring together more than 350 brands from 34 countries. In addition to Spain -the world's second largest exporter of bridal fashion- USA, France, Italy, Poland, and the Netherlands are the countries that bring the most exhibiting firms to BBFW. Some 30% of the brands are participating for the first time in the fair, attracted by the event's high level of attraction (70% of its visitors are international), and by its proven effectiveness in closing sales, as it is a global leader in the sector.
Likewise, with the aim of boosting business opportunities for exhibiting brands, BBFW has directly invited strategic buyers and specifiers from Italy, the United Kingdom, Germany, France, Holland, Portugal, the USA, China, Brazil, Japan, South Korea, Mexico, and Southeast Asia through various internationalisation programmes.