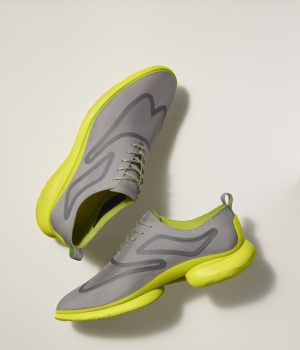 Cole Haan, the innovative American lifestyle brand and retailer, releases 3.ZERØGRAND – the next generation of the ZERØGRAND footwear for men and women.
For Fall 2018, Cole Haan isn't pushing boundaries, it's breaking them. The newest disruptor in the staid world of dress footwear, the 3.ZERØGRAND, focuses on creating a unique anatomical fit experience from heel to toe that highlights the lightweight, flexibility and cushioning that they're known for.
"We thrilled to introduce the 3.ZERØGRAND," said David Maddocks, Chief Marketing Officer & General Manager of Business Development at Cole Haan. "Since introducing the ZERØGRAND in July 2014, we've continued to push boundaries and create footwear that is designed and engineered for modern on-the-go people who demand stylish and versatile products that don't sacrifice performance and comfort."
With breakthrough silhouettes for both men and women, all styles feature the iconic GRAND Fit Chassis that provides support, rigidity, flexibility and cushioning where the foot needs it most. Underfoot, Cole Haan's GRAND Energy Foam provides outstanding heel-to-toe cushioning and multi-directional traction. The 3.ZERØGRAND is a boldly innovative shoe designed for boldly innovative people. It's an ethos which Cole Haan has proudly upheld since day one. Welcome to the evolution of ZERØGRAND, a true original. The future is here in the form of the 3.ZERØGRAND.
"Our favorite thing about the design of 3.ZERØGRAND, is that it stays true to what made the ZERØGRAND an icon – 360˚ design that solves the needs of our Cole Haan customers while disrupting the status quo of what's acceptable to wear from dress to casual, work to weekend", said Cole Haan's Chief Creative Officer, Scott Patt.
The GRAND Fit Chassis is uniquely anatomic and crafted for the functional needs of men and women. It provides hugging and contouring support from midfoot to heel, natural forefoot flexibility, and exceptional underfoot cushioning for an incredibly holistic fit experience. These innovative functional elements blended with supreme craftsmanship result in yet another step forward in Cole Haan's long tradition of untraditional shoemaking.
The 3.ZERØGRAND collection is available on www.ColeHaan.com and in US and international Cole Haan Stores.