Hermès is delighted to open the doors of its new home in Toronto at 100 Bloor Street West. Designed by the Parisian architecture agency RDAI, the nearly 6,000 square foot retail space presents a full transformation of Hermès' presence in Toronto.
"The opening of our new store at 100 Bloor Street West in Toronto reaffirms Hermès' commitment to Canada, and salutes the refinement and vitality of this special city," said Jennifer Carter, President and CEO, Hermès Canada. "The deep and authentic bond between Hermès and Canadians is emotional – built on shared values, inspired by the energy to keep innovating, and a love for hand crafted objects made for living."
Inside, and beyond the Hermès ex-libris set within the familiar Faubourg mosaic, the space reveals a thoughtful arrangement of the Hermès universes. At the heart of the store is an oval staircase that winds upwards, paved in white marble, encompassed in cherry wood, and accented with a leather handrail.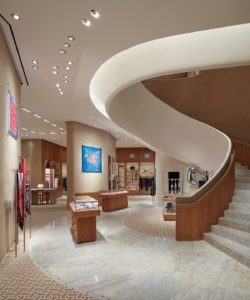 On the ground floor, the silk universe has been given pride of place around this staircase and nearby is the jewellery area. Just beyond is the space dedicated to the full range of fragrances, behind which is the men's universe. At the top of the stairs, customers will arrive at the home universe, which will introduce Hermès' furniture and lighting to Toronto. Also new to the store are wallpapers and textiles, which round out the offering of tableware, plaids, and objects for the home. The women's and leather universes share the upper level windows, and customers wishing to take their experience to even greater heights will enjoy a private and personalised space at the far end of the second floor.
To coincide with the opening, Hermès is pleased to unveil special products developed exclusively for Toronto to express the city's flair through the house's savoir-faire.
At Hermès, passion for the future and respect for the past are inextricably linked. Since 1837, six generations of enterprising and passionate artisans have devoted themselves to creating objects of the highest quality. From its beginnings as harness-makers to the rich medley of collections offered today, its founding values remain the same – creative freedom, fine craftsmanship, innovation and excellence. A family owned company, Hermès is managed by Chief Executive Officer, Axel Dumas, and its artistic direction is led by Pierre-Alexis Dumas, both sixth-generation family members.