Just in time for Valentine's Day, Canadian skincare brand Wyld has launched Skinny Dipping Sex Gel, a 100% natural, vegan lubricant.
The days of sticky, scented and synthetic lubricants are out. Skinny Dipping Sex Gel is a luxurious, water-based lubricant formulated with only the good stuff. It has added hydration properties that are gentle on sensitive bits and give you that extra slip. The formula is made with 100% natural, plant-based ingredients. Since it's water-based, it's safe on your toys and makes cleaning up a piece of cake. The Sex Gel is made with pleasure in mind and can be used for solo fun or with a partner.  
Wyld is an all-natural, vegan, cruelty-free skin and body care line that is also biodegradable and ocean and reef safe. Wyld was born out of a desire for truly natural, good quality skincare essentials that are beautifully packaged, sustainable, and don't cost a fortune. 
Wyld stands for What You Love Doing. The brand is fiercely passionate about inspiring radical self love and giving yourself permission to do what sets your soul on fire. Proceeds from every Wyld product sold are donated to ocean conservation organizations.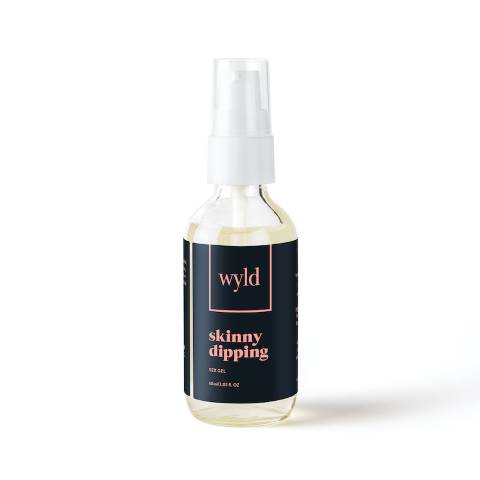 INGREDIENTS: 
Do you know who you're getting into bed with?
Betaine: Betaine is a sustainable ingredient made from sugar beets. It works to protect and moisturize your skin, leaving you with a lubricant that feels silky and soft to the touch.
Aloe Vera: This plant is known for its ability to soothe, hydrate and soften skin. This lubricant has the perfect balance to hydrate, without being sticky.
Damiana: Damiana is native to Mexico, Central and South America, and the Caribbean. It's been used for centuries to treat a variety of ailments, but the most notable is as an aphrodisiac to increase desire.
Full list: *Aloe Barbadensis Leaf Juice (Aloe Vera), Propanediol (Corn based humectant), Turnera Diffusa (Damiana) Leaf Extract, Betaine (Derived from sugar beets), Hydroxyethylcellulose (Plant based thickener), Sodium Benzoate (Plant based preservative), Potassium Sorbate (Plant based preservative), Citric Acid
*Organic
How to Use: Lube up whenever the mood strikes, alone or with a partner. Light a candle, burn some incense, get naked and get Wyld.