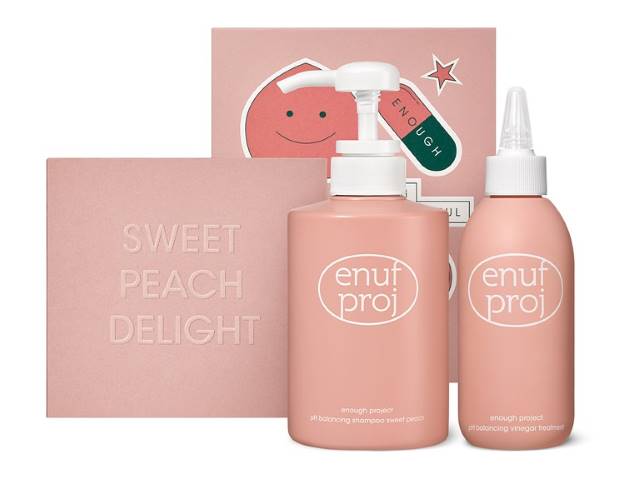 Enough Project, the sister brand to Amorepacific's INNISFREE and Laneige, known for their gender-neutral, pragmatic skincare has launched their first hair care products. Their Sweet Peach Gift Set is now available for $32.99 exclusively on Amazon, and contains a pH-balanced shampoo, vinegar treatment and microfiber beauty gloves.
The pH-balanced shampoo volumizes, softens, and is sulfate-free. It features Amorepacific's heritage ingredient, first-brew tea, to moisturize the scalp and strengthen the skin barrier while supporting the roots for stronger hair. The vinegar treatment also strengthens the scalp's barrier while essential oils provide anti-bacterial effects & create simultaneous scalp and hair glow care.
The shampoo and vinegar treatment is packed with wild a youthful peach finish, reminiscent of springtime. At their core Enough Project wants to remind you that "You Are Enough Just The Way You Are".