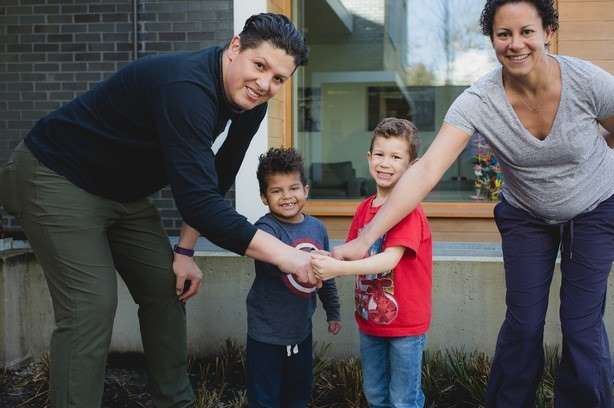 McDonald House BC & Yukon (RMH BC) is thrilled to announce Step Up for Families: Going  the (Social) Distance, a virtual fundraising challenge that encourages the public to stay active – practicing safe social distancing, of course! – to raise money for families staying at RMH BC while their children receive life-saving medical care.
Taking place through the month of June, Step Up for Families calls on the community, including RMH BC supporters, friends, families and corporate groups to achieve their movement goals while raising money for RMH BC families. Participants are encouraged to walk, run, or roll a total of 73km within the month, symbolizing the 73-room House that shelters parents and siblings of children requiring care at BC Children's Hospital. All individuals in a team may tally their distances together to reach the 73km goal. Each participant or team is challenged to raise a minimum of $125, which   covers the cost of one family staying at the House for one night. The event is open to people of all ages, abilities and fitness levels who wish to support families of RMH BC.
"We are so excited to launch Step Up for Families this summer, and give people the opportunity to help families with sick children simply by spending time outdoors," says Sunshine Purificacion, Director of Community Development at RMH BC. "No matter where you live, you can join in as we go the (social) distance to support 2,000 families every year who rely on RMH BC for accommodation, guidance and compassion during an extremely difficult and stressful time."
Step Up for Families participants can track their progress virtually using any fitness tracking apps like Strava, MarkMyRunor, tracking devices such as Fitbit, Garmin or mobile phones. Each time a run or walk is completed, participants may submit their results on the Step Up for Families website. The site will generate a personal fundraising page, which means every online donation will be automatically  sent to RMH BC to cover the cost of families staying at the House.
"The running and fitness community in Vancouver is a dedicated and motivated group," says Phil Moore, founder of popular local sporting goods stores LadySport and FitFirst  Footwear. "Doing what we love to do for a great cause is a win-win situation. Our stores have supported families at the House for some time now and we are happy to partner with RMH BC on this great initiative."
Though $125 is the suggested fundraising goal, as it represents one night's accommodation at
the House, fitness superstars who raise additional funds will be entered into a draw to win prizes such as gear from LadySport or a Garmin Forerunner 35 Smartwatch. Extreme walkers or runners can soar above and beyond their fitness goals by striving for milestones such as $875 (one week's accommodation for one family); $1,500 (12 days' accommodation for one family, or the average length of stay at RMH BC); or $3,750 (one month's accommodation for one family). Remember, as you go the distance for RMH BC families be sure to maintain social distancing of at least six feet!
To register for the event:
Register for free as an individual or team
Assemble your team & fundraise
Step Up in June & complete the 73km goal
Support the families that find a home away from home at RMH BC
For more information about Step Up for Families or to get involved, please visit Rmhbc.ca or contact community@rmhbc.ca. You can also share your fitness fundraising online using the following social media handles – and don't forget to tag RMH BC with the hashtag #StepUpForFamilies.