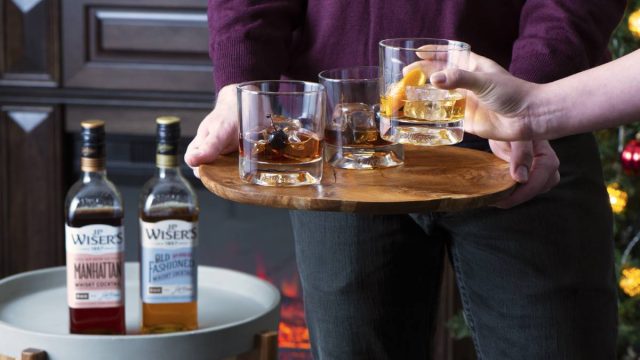 New trends emerged across almost every industry in 2020 as consumers and businesses adjusted to the realities of a global pandemic.
The beverage alcohol industry was no exception.
Just like in fashion, beverage trends regularly come and go as the seasons change and the calendar flips to a new year. This year however, the changes in those trends are even more drastic because Canadians have experienced so many other lifestyle changes over the past 11 months.
Canadians adjusted what they consumed, where they consumed it and even how they purchased it, which is leading to some exciting drink trends in 2021.
Corby Spirit and Wine have identified some drink trends to look out for and try this year:
E-commerce: While e-commerce has been booming in other industries for years, e-commerce in the beverage industry has been slow to catch up. That all changed with the COVID-19 pandemic as lockdowns and public health restrictions encouraged people to stay home as much as possible. Consumers flocked to online ordering options during the pandemic, and now that people have realized how convenient it is, the demand for e-commerce in the beverage alcohol industry is climbing significantly.
Gin: Although it has been a liquor cabinet staple for decades, gin has surged in popularity over the past few years. It is an incredibly versatile spirit, so much so that some people are even calling it "the new vodka." Gin-based cocktails were gaining in popularity before the hospitality industry had to essentially shut down because of COVID; when they return, expect gin to pick up right where it left off — in demand by consumers.
Cocktail Culture: There is hundreds of years of history behind cocktails, and so many great stories behind the origins of some of the classics. We are in a cocktail renaissance. Through them, bartenders can express their creative flair and consumers can mark memorable events and milestones. Even while the pandemic has us away from our favourite bars and pubs, people have been carrying on the cocktail culture, trying a little mixology of their own in their homes.
Ready-to-Drink Products: Even if folks aren't going full bartender at home with their cocktails, the fast-growing ready-to-drink segment is giving them easy access to their favourite drinks. Products like J.P. Wiser's pre-mixed Old Fashioned and Manhattan cocktails conveniently provide consumers with sophisticated drinks in the comfort of their own home. These types of products also allow people to easily experiment with new categories they may not be familiar with.
Premiumization: The demand for premium quality spirits has been steadily increasing for a number of years. When people make the decision to have a drink, they want to put better spirits in their glasses. This trend doesn't appear to be going away anytime soon, and the entire cocktail culture is being nudged into a more premium space.
Drinking Local: Supporting local businesses has been popular for many years, and that sentiment has only become more popular with the pandemic. Canadians want to consume products that are close to their communities and it is no different in the beverage industry. Buying products made in places like Quebec, Ontario, and BC is very important to consumers, and this trend is going to stick around for years to come.
No matter what drink trend you plan on trying out this year, one thing hasn't changed – drinks help us mark the important occasions in our lives. There are so many moments in life to celebrate, and when you can share those moments with a loved one and the right drink, you can create a cherished memory.
Please drink responsibly. Don't drink and drive.