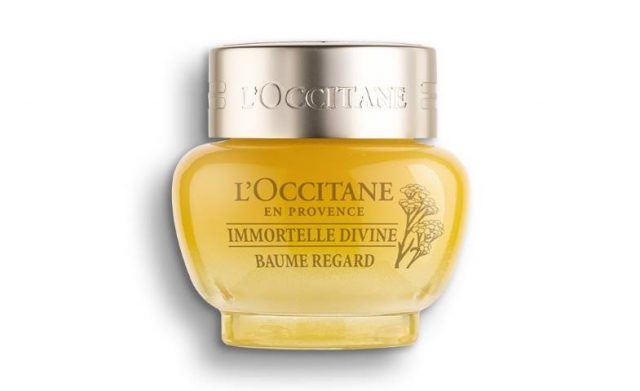 At L'OCCITANE, nature is the highest source of inspiration in crafting quality products. While some may choose to use retinol, the brand has chosen to spotlight the unique Immortelle flower from Corsica, to tackle signs of aging with a new reformulation that contains a 30% higher concentration of Immortelle.
The new and improved formula is enriched with natural origin ingredients and contains Immortelle Super Extract – a naturally derived retinol alternative – that helps to enhance skin's volume and structure. The Immortelle Super Extract is as effective as retinol and gentle on the skin, helping to target and fight five main visible signs of aging including: visible efficacy on wrinkles, firmness, skin volume, evenness and vibrancy.
IMMORTELLE DIVINE EYE & LIP CONTOUR Starring Immortelle Super Extract, a naturally derived Retinol alternative, this multipurpose Eye & Lip Contour concentrate helps to fight against visible signs of aging and improve skin's firmness. Apply a thin layer in the morning and evening in gentle circular movements around the eyes and lips.
IMMORTELLE DIVINE EYE BALM Featuring Immortelle Super Extract and Shea Butter, this eye balm melts gently into the skin to help nourish the eye contour and target the visible signs of aging. Apply a thin layer in the morning and evening around the eye area as a balm or eye mask.
As an extension to the beloved Immortelle Reset range, L'OCCITANE introduces the new Tri-Phase Essence – a formula that offers a unique sensorial experience that is fresh, nourishing and quickly absorbs into the skin.
IMMORTELLE RESET TRI-PHASE ESSENCE
New product! The innovative tri-phase texture makes it fast-penetrating for skin that looks and appears replenished. Apply the essence on clean skin or after your toner. Continue with your daily routine. Use twice a day. Ingredients include:
Immortelle Essential Oil: L'OCCITANE's tried and true ingredient that fights the first signs of aging and strengthens the skin
Acmella Oleracea: Key ingredient that immediately works to smooth the skin
Prebiotic from natural origin: Star ingredient to balance and improve skin quality, while boosting skin with hydration
Available at L'OCCITANE boutiques nationwide and at loccitane.ca