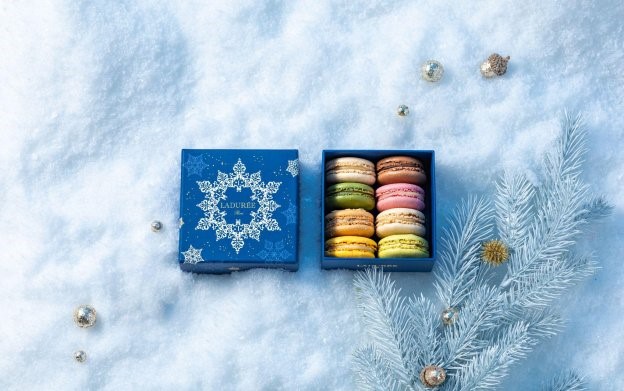 Ladurée Canada is celebrating the holiday season with its annual limited edition Christmas boxes. This year, the sought-after 'Céleste' collectables are elegantly designed with a festive blue and gold motif and cascading snowflakes. Guests are invited to fill Ladurées festive boxes with their own selection of classic or holiday macaron flavours available in sets of eight ($40.00), 16 ($77.00) or 24 ($110.00). Ladurée offers nationwide shipping through its website including local same-day delivery services and UberEats in the Greater Toronto Area and Greater Vancouver Area.
Two special holiday macaron flavours will be offered in addition to the assortment of 11 classic flavours. The first flavour is luscious brioche combining the richness of opalys/dulcey white chocolate with milky creaminess and hints of vanilla, currant, orange and lemon. The second flavour is nutty hazelnut which will be vegan.
Ladurée's popular classic macaron boxes like Napoléon, Prestige and Crystal are available alongside other limited edition boxes. Macarons can be customized with a special message or a logo. Special orders can be placed for gold and silver leafed macarons.
Custom-made luxury hampers are available in a range of themes and colours. Hampers can be filled with Ladurée gifts such as macarons, teas, jams, honeys, candles and accessories. Ladurée also offers its signature statement-making macaron pyramids with up to 130 macarons. "We're excited to offer Ladurée's classic macaron flavours in beautiful gift-worthy packaging. 2022 is a marquee year for Ladurée as it commemorates its 160th anniversary. Since 1862, Ladurée has toasted to the French art of living through its world-famous macarons, pastries, cakes and other delicacies," says Olesya Krakhmalyova, owner, Ladurée Canada. "These products can be found at premier shopping destinations like Toronto's Yorkdale Mall, First Canadian Place and Vancouver's Robson Street. We also recently opened two Carriage Pop-Ups in Vancouver at Pacific Centre and Vancouver International Airport."

The Robson Street Vancouver location has its own Ladurée Pastry Laboratory led by its Executive Pastry Chef from France, Alexandra Launay. This Vancouver location also offers the complete range of Ladurée cakes and pastries all made from scratch daily according to the precise techniques and recipes of Ladurée Paris. For Christmas the Vancouver destination will feature its famous and signature collection of yule logs – Bûche de Noël (from $75.00 for 6 – 8 people) and the mini Bûchette de Noël (from $11.00). Classic flavours include Mont Blanc, Marie-Antoinette, La Marquise and La Favourite. Pre-orders made via Ladurée's website will be available for pick up from December 16 onwards.