April is Stress Awareness Month and Bleu Lavande invites you to relax, unwind and discover the many benefits of essential oils. Commonly used by massage therapists, naturopaths and wellness specialists, essential oils provide beneficial properties for the body, mind and soul. To kick start your essential oil journey, Bleu Lavande presents their Aromatherapy Essentials kit. Bleu Lavande's Aromatherapy Essentials Kit consists of three of the brand's most popular oils that can be used with its Supernova Essential Oils Diffuser.
The kit includes: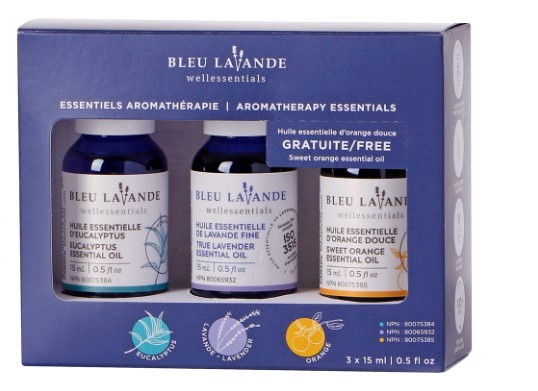 True lavender essential oil: Used in aromatheraphy as a calming and digestif aid.
Lavender and eucalyptus essential oil: Used in aromatherapy to help relieve coughs, colds, headaches and joint/muscle pain associated with sprain/strain/rheumatoid arthritis.
Lavender and sweet orange essential oil: Used in aromatherapy as a nervine/calmative and as a carminative/antispasmodic for symptomatic relief of digestive discomfort.
These products are NPN certified. NPN (natural product number) means that the product has been reviewed by Health Canada and found to be safe, effective and of high quality under the recommended conditions of use.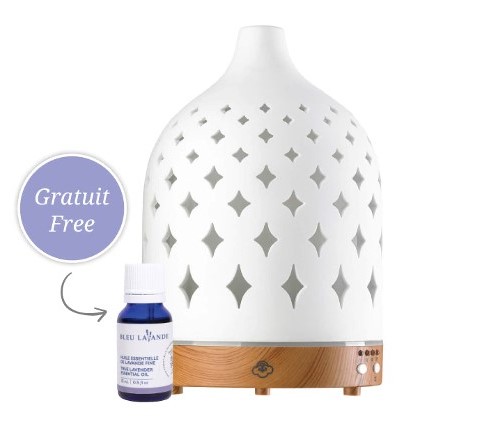 To wrap your rooms with the soothing natural scent of your essential oils, an ultrasonic ceramic diffuser is an essential. The Supernova Essential Oil Diffuser has a long autonomy compared to other diffusers (diffuses up to 7 hours), you can relax all day without worrying about filling it up again.
Products are available on Bleu Lavande's site