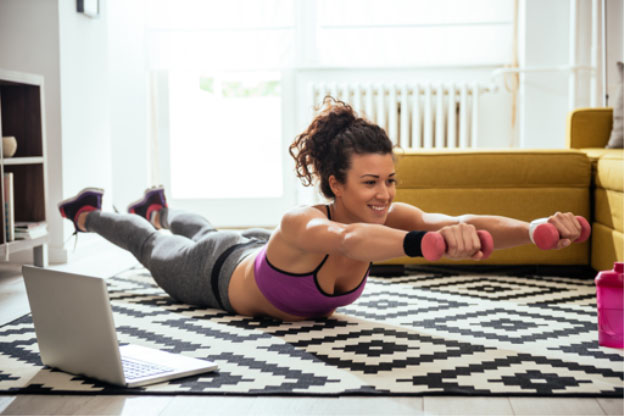 When it comes to exercise, some people prefer going for a run, others enjoy a spin class, others may prefer a gym while others opt for a workout mat in their living room. To break down the pros and cons of at home workouts, we spoke with Vince Sant, Fitness Expert, Certified Trainer and Co-Founder of V Shred an online fitness portal based in Las Vegas, Nevada.
According to Vince, the key is to create a workout regimen that is sustainable. "You really want to create something that is fun, fast and effective. When considering an at home workout it's important to get honest and determine if it's a match for your exercise style and mindset."
That said, let's get into it.
Working out from home is convenient!
Roll out of bed, and you can be working out within a few minutes. Sounds easy enough. If that were the case obesity wouldn't be an issue. Everyone would be in excellent shape. "The truth is some people need to go somewhere to get serious about exercise. Sometimes when things are too convenient, we lose motivation," explains Vince. This makes sense when we consider why shared office spaces are so popular. Some people need to be outside of the home to be productive. "People who can work out from home are usually great at time management, aren't distracted, are fully committed and are disciplined," says Vince. Convenience is clearly both a pro and a con depending on the person.
No more expensive gym fees!
There's nothing worse than paying for a gym membership that goes unused. Many can relate. Working out from home eliminates these monthly gym payments. This is definitely a pro for many people. "Thanks to mobile technology more and more people are turning to fitness apps and online portals for 'virtual training.' When I was creating the many workouts for men and women along with the menu options and recipes, I asked myself what can V Shred offer that would be better than a gym for way less money." It seems like more and more people are embracing virtual training that also has a nice community feel where people can share their progress in social media groups.
No distractions!
Many people find the gym to be more about socializing than fitness. Many women have to wear earbuds and make it clear through body language that they aren't interested in being hit on. "The gym is definitely a place where some people see it as a great place to find prospective dates. If you're into fitness, then the best place to meet someone who is also into fitness would be at the gym. However, I totally empathize with people who want to do their work out without any distraction or awkward interactions," Vince shares.
Privacy!
Want to bend, grunt and look your absolute worst without any care? Then working out at home is for you. "The majority of guys don't care about this sort of thing. However, looking cute at the gym is a priority to many women. Aside of their wanting to look good, they also don't want to be self- conscious as they are on all fours doing leg kicks, on an abductor machine, or grunting while doing that last sumo squat. People who are a bit more private about working out prefer to do it at home.
Kid friendly!
The at-home fitness trend is a favorite to moms who work from home and want to get fit while watching their little ones. "Many moms complain that they could never go to a gym with a baby or toddler. Some gyms offer kiddie care but it's not the same as putting down a mat with your child right there. It also raises kids with exercise a part of their day right from the start, which is very important," says Vince.
No machines!
Many people avoid the gym because they feel intimidated by the machines and weights. Some people who train at home choose to add basic equipment such as resistance bands, exercise balls, weight balls, kettlebells, jump rope, and weights. Vince assures people that they can get amazing results with no equipment at all. In fact, one of the things he wanted to offer people through his V Shred workouts were a plethora of equipment-free workout options that use the body as resistance.
"If machines aren't your thing, then at home high-intensity interval training (HIIT) can work wonders. The key is mixing up different moves and challenging yourself. Getting creative with moves and music can keep things efficient, effective and fun," says Vince.
For those who prefer zoning out on a treadmill, stationary bike or elliptical, these machines can be bought and added to a home gym if space allows.
Regardless of whether you choose to keep the gym membership or create an at-home routine sticking with it is key. "Either way you really need accountability, especially in the beginning or when you are working towards a specific goal. This was why I decided to offer virtual trainers in the V Shred platform. Mindset is everything when it comes to fitness. It's important to have a real expert to support you along the way," Vince says.
What body type category do you fall within? Find out with this body type quiz so that you can adjust your lifestyle to reach your fitness goals.
About Vince Sant:
Fitness Expert & Co-Founder V Shred
Vince Sant, 25, is the Co-Founder of V Shred, the fastest growing online fitness and nutrition portal in the world. As an ISSA Certified Fitness Trainer, Former Model Turned Fitness Expert, Instagram Fitness Guru & YouTube Sensation, Vince's mission is to offer the masses a sustainable and transformative lifestyle-based training program designed to put the fun back into fitness and nutrition.
In 2015, Vince co-founded V Shred along with Nick Daniel, Roger Crandall, Kevin Pearn, who sought out to create a healthy fitness movement specifically designed to deliver profound changes in your body with the minimal amount of workout time.  
Vince is responsible for creating some of the world's most popular fitness and nutrition programs such as Fat Loss Extreme and Toned in 90 Days for women and men and Ripped in 90 Days for men.
V Shred is based in Las Vegas, Nevada. For more information visit http://www.vshred.com