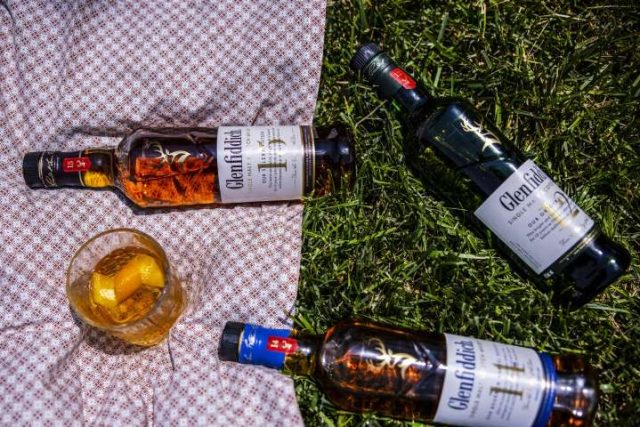 As temperatures climb and days get longer, Canadians once again start to feel the pull of summer and entertaining outdoors. Whether it be an afternoon of crafting elegant cocktails at the cottage, dining al fresco on the terrace, or pouring opulent drams by a star-lit bonfire, Glenfiddich will be the toast of summer, lending a taste of luxury every time its poured.
With expertly crafted, rich, golden-hued single malt scotch expressions bottled in every variant, Glenfiddich makes for a luxurious accompaniment to every quintessential summer occasion, best savoured alongside fresh summer fare and great company.
"Single malt scotch is often overlooked in warmer seasons, when in fact it's a spirit that can be enjoyed year-round," comments Jamie Johnson, National Brand Ambassador, Glenfiddich. "Whether it's neat or in a refreshing cocktail, when it comes to basking in the sun or hosting a glamourous rooftop cocktail party, Glenfiddich will perfectly elevate summer occasions and delight Canadians of legal drinking age this season."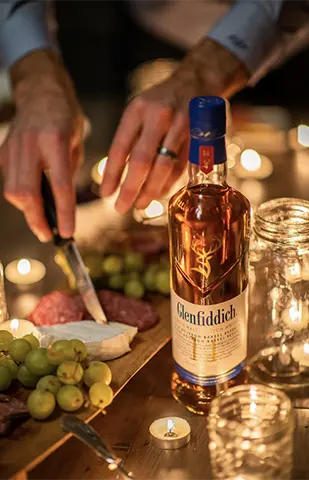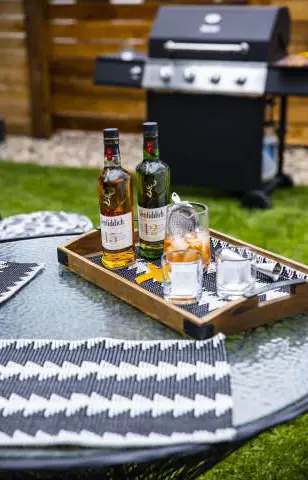 STAG'S SUMMER SIPPER
The perfect poolside sipper or a perfect whisky to serve at your rooftop cocktail party, the Glenfiddich 12-year-old stirs perfectly into a refreshing Stag's Summer Sipper cocktail. With Luxardo, lemon, raspberries, and soda – this effervescent Glenfiddich highball makes for the best of memories while soaking up summer sunsets, sipping poolside or basking in the sunshine with friends.
Recipe:
40 ml | 1.5 oz Glenfiddich 12 Year Old
7.5 ml | ¼ oz. Luxardo Maraschino
15 ml | ½ oz. Lemon Juice
15 ml | ½ oz. Simple Syrup
8 Raspberries
Top with Soda
Shake Glenfiddich 12-year-old, Luxardo Maraschino, lemon juice, simple syrup, and raspberries in a shaker. Strain into a highball glass with ice and top with soda. Garnish with lemon and fresh raspberries.
GLENFIDDICH LAVENDER GOLD RUSH
Glenfiddich 14-year-old Bourbon Barrel Reserve is the single malt scotch the whisky of summer, thanks to its notes of woody spices and ripe summer fruit. Matured exclusively in ex-bourbon casks for 14 years and finished in new American Oak casks, the Glenfiddich 14 delivers robust, sweet, and vibrant flavours that will pair perfectly with al fresco fare, balmy cocktail hours or sublime rooftop soirees.
This single malt whisky is beautifully complex with flavours of woody spices and ripe summer fruit, making it a perfect scotch to blend into summer cocktails with citrus and light florals like the Lavender Gold Rush. It's a wonderful expression that will inspire bourbon and scotch lovers alike all summer long.
Recipe:
60 ml | 2 oz Glenfiddich 14-Year-Old
22.5 ml | ¾ oz. Lemon Juice
22.5 ml | ¾ oz. Honey Syrup
1 sprig Lavender
In a cocktail shaker, add Glenfiddich 14-year-old, lemon juice, honey syrup and a sprig of lavender with ice. Shake and strain into a rocks glass with a king cube and garnish with fresh lavender.
GLENFIDDICH 15 YEAR-OLD: NEAT
Glenfiddich 15-year-old is the perfect dram for sipping this summer. ​ Aged in European, American, and New American oak casks, this expression is then mellowed by Glenfiddich's unique Solera vat process. Bursting with warm notes of spice, rich fruit, and honey, this truly distinctive single malt scotch whisky makes for a luxurious neat pour. Savour it with barbecued fare or enjoy this special dram over outdoor evening drinks by the bonfire.
GLENFIDDICH GRAND CRU: Neat
For the most special of occasions, Glenfiddich Grand Cru is a single malt that's sure to impress. This fan-favourite is the perfect accompaniment to mark the most special of summer moments. Aged for 23 years, the finest flavours of Scotland and France fuse together seamlessly in this single malt, finished in French cuvee casks. Grand Cru boasts opulent notes of sweet brioche, sandalwood, and pear sorbet. Whether celebrating a special occasion or savouring under glimmering fireworks – this ultra-special Glenfiddich expression is worthy of a toast. Best enjoyed neat.
Glenfiddich is available Canada-wide. Specific product availability depends on your local province. Please contact your local store for more details.
To learn more about the world of Glenfiddich globally, please visit www.glenfiddich.com.