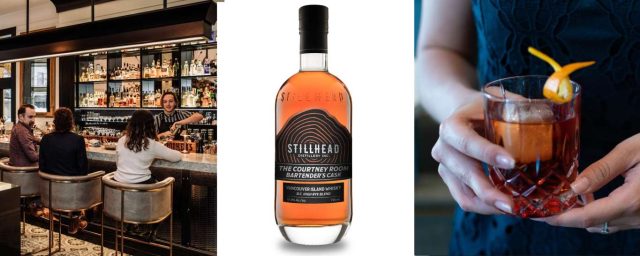 Two iconic Vancouver Island brands, The Courtney Room and Stillhead Distillery, have joined forces to create a custom signature blend whisky, which will be available by the glass, featured in house cocktails and by the bottle.

A unique blend of British Columbia rye, corn and malt, finished in new Hungarian oak barrels, The Courtney Room's Bartender's Cask is a Vancouver Island Grain Whisky that captures a bold structure with light notes of fruit from local wine casks, as well as black pepper and lemongrass.

The Bartender's Cask is available for bar and dinner guests at The Courtney Room and will feature in various cocktail iterations throughout the year. Current cocktails include: TCR Bartender's Cask Boulevardier (Bartender's Cask Whisky, Campari, Esquimalt Wine Co. Sweet Vermouth, orange oil).

A nod to the unspoken partnership between Distiller and Bartender, The Courtney Room's Signature Blend was created with the intention of stamping a specific moment in time. "Our dedicated cocktail program is based on progressive research and development to understand the ingredients behind each cocktail's structure, ensuring that we find the best methods to showcase specific Pacific Northwest ingredients, flavours, and textures," says Anton Wilson, head-bartender at The Courtney Room. "We utilized this same process in creating a whisky blend together with the stellar team at Stillhead Distillery".

"It was a pleasure to work with Anton and the team at The Courtney Room to create a distinct Signature Blend that we are all really proud of," says Brennan Colebank, owner of Stillhead Distillery. "The caliber and talent behind the bar at The Courtney Room paired with our experience and innovation in crafting internationally award-winning spirits, embodying the essence of Vancouver Island, makes a beautiful blend."

The Courtney Room's Bartender's Cask is perfectly crafted for making cocktails, sipping over ice, or enjoying neat with a pipette of cold filtered water to allow the flavour profile to open up. Hotel guests staying in Diamond-level rooms at the Magnolia Hotel & Spa will also have the opportunity to purchase a 375ml bottle from their in-room mini bar.